Vanity mirror with light
CAUTION
Keep the vanity mirror cover closed while the car is being driven to avoid being blinded by glare.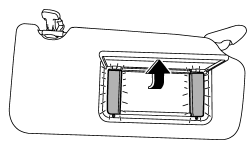 To use the vanity mirror, swing down the sun visor and open the vanity mirror cover. The lights beside the vanity mirror illuminate when the mirror cover is opened.
NOTE
Use of the vanity mirror light for a long period of time while the engine is not running can cause battery discharge.
See also:
Brake pad and lining
While maintaining a speed of 30 to 40 mph (50 to 65 km/h), step on the brake pedal lightly. Repeat this five or more times. ...
Rear differential oil temperature warning light (STI)
Reduce vehicle speed and park the vehicle in a safe place as soon as possible if the R.DIFF TEMP light illuminates. Continued driving with this light illuminated can damage the rear differential ...
The Outside
I liked the outgoing Legacy. Its appearance — assertive up front, aggressive in profile — set it apart from a number of tubbier-looking competitors. Sadly, times have changed. The Legacy has caugh ...