Remote keyless entry system

- Do not expose the remote transmitter to severe shocks, such as those experienced as a result of dropping or throwing.
- Do not take the remote transmitter apart except when replacing the battery.
- Do not get the remote transmitter wet. If it gets wet, wipe it dry with a cloth immediately.
- When you carry the remote transmitter on an airplane, do not press the button of the remote transmitter while in the airplane.
When any button of the remote transmitter is pressed, radio waves are sent and may affect the operation of the airplane.
When you carry the remote transmitter in a bag on an airplane, take measures to prevent the buttons of the remote transmitter from being pressed.
- FCC WARNING
Changes or modifications not expressly approved by the party responsible for compliance could void the user's authority to operate the equipment.
This device complies with Part 15 of the FCC Rules and RSS-Gen of IC Rules. Operation is subject to the following two conditions: (1) this device may not cause harmful interference, and (2) this device must accept any interference received, including interference that may cause undesired operation.
Two transmitters are provided for your vehicle.
The keyless entry system has the following functions.
- Locking and unlocking the doors and rear gate without a key
- Unlocking the rear gate without a key
- Sounding a panic alarm
- Arming and disarming the alarm system.
For detailed information, refer to "Alarm system".
The operable distance of the keyless entry system is approximately 30 feet (10 meters). However, this distance will vary depending on environmental conditions.
The system's operable distance will be shorter in areas near a facility or electronic equipment emitting strong radio waves such as a power plant, broadcast station, TV tower, or remote controller of home electronic appliances.
The keyless entry system does not operate when the key is inserted in the ignition switch.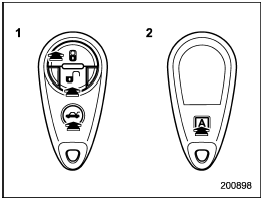 : Rear gate unlock button


: Unlock/disarm button


: Lock/arm button
A: Panic button
1) Front
2) Back
See also:
PTY (Program type) group tuning only FM reception)
Press the indicated button to change to the PTY selection mode. At this time, the PTY group that you are currently listening to (type A, B and C audio)/that you selected the last time (type ...
ABS system self-check
You may feel a slight shock in the brake pedal and hear the operating sound of ABS from the engine compartment just after the vehicle is started. This is caused by an automatic functional test of ...
Headlight indicator light
This indicator light illuminates under the following conditions. ● when the light switch is turned to the "" or "" position ● when the light switch is in the "AUTO" position and the ...