Replacing the battery

- Do not let dust, oil or water get on or in the transmitter when replacing the battery.
- Be careful not to damage the printed circuit board in the transmitter when replacing the battery.
- Be careful not to allow children to touch the battery and any removed parts; children could swallow them.
- There is a danger of explosion if an incorrect replacement battery is used. Replace only with the same or equivalent type of bat- tery.
- Batteries should not be exposed to excessive heat such as sunshine, fire or the like.
When the transmitter battery begins to get weak, transmitter range will begin to decrease. Replace the battery as soon as possible.
To replace the battery: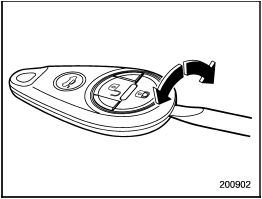 1. Open the transmitter case using a flathead screwdriver.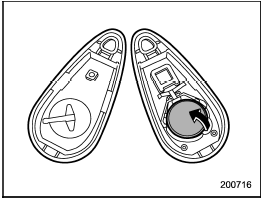 2. Remove the old battery from the holder.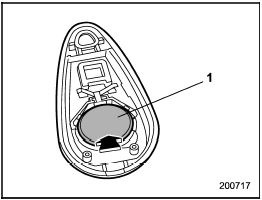 1) Negative (−) side facing up
3. Replace with a new battery (type CR2025 or equivalent) making sure to install the new battery with the negative (−) side facing up.
4. Refit the removed half of the transmitter case.
After the battery is replaced, the transmitter must be synchronized with the keyless entry system's control unit.
Press either the "

" or "

" button six times to synchronize the unit.
See also:
Vanity mirror with light
CAUTION Keep the vanity mirror cover closed while the car is being driven to avoid being blinded by glare. To use the vanity mirror, swing down the sun visor and open the vanity mirror cover. ...
Other sound setting controls (type A audio)
Each brief press of the "MENU" button changes the control modes in the following sequence. Choose the desired settings for each mode by turning the "TUNE/TRACK/CH" dial. The control function r ...
Fuel
...