Checking the oil level
Check the engine oil level at each fuel stop.
1. Park the vehicle on a level surface and stop the engine.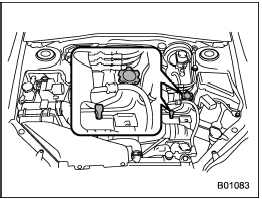 Turbo models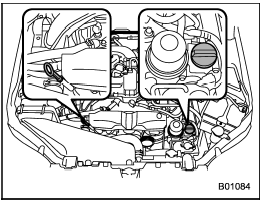 Non-turbo models
2. Pull out the level gauge, wipe it clean, and insert it again.
3. Be sure the level gauge is correctly inserted until it stops.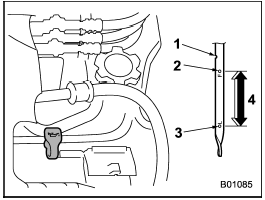 Turbo models
1) Notch
2) Upper level
3) Lower level
4) Approximately 1.1 US qt (1.0 liter, 0.9 Imp qt) from lower level to upper level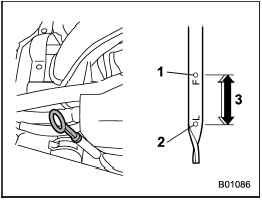 Non-turbo models
1) Upper level
2) Lower level
3) Approximately 1.1 US qt (1.0 liter, 0.9 Imp qt) from lower level to upper level
4. Pull out the level gauge again and check the oil level on it. If it is below the lower level, add oil to bring the level up to the upper level.

- Use only engine oil with the recommended grade and viscosity.
- Be careful not to spill engine oil when adding it. If oil touches the exhaust pipe, it may cause a bad smell, smoke, and/or a fire. If engine oil gets on the exhaust pipe, be sure to wipe it off.
If you check the oil level just after stopping the engine, wait a few minutes for the oil to drain back into the oil pan before checking the level.
Just after driving or while the engine is warm, the engine oil level reading may be in a range between the upper level and the notch mark. This is caused by thermal expansion of the engine oil.
To prevent overfilling the engine oil, do not add any additional oil above the upper level when the engine is cold.
See also:
Security setting - Setting PIN code
The PIN code is a 4-digit number and is used when locking the phonebook. 1. Select the "SET PIN" menu. Then "CURRENT PIN?" is displayed. 2. Input the current PIN code by operating the "TUNE/TR ...
Other markings
The following makings are also placed on the sidewall. Maximum permissible inflation pressure The maximum cold inflation pressure to which this tire may be inflated. For example, "350 kPa (51 PSI) ...
Airflow control dial
Airflow control dial Each dial position activates the following air outlets. AUTO: The airflow control is adjusted automatically in accordance with the air temperature inside and outside the passeng ...