Audio control buttons (if equipped)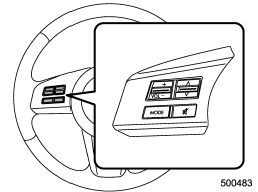 Type A audio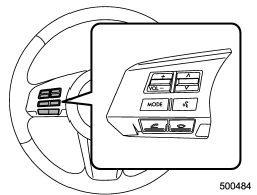 Type B audio
These buttons are located on the spokes of the steering wheel. They allow the driver to control audio functions without taking his/her hands off the steering wheel.
See also:
Turn signal lever
To activate the right turn signal, push the turn signal lever up. To activate the left turn signal, push the turn signal lever down. When the turn is finished, the lever will return automaticall ...
Shock sensors (dealer option)
The shock sensors trigger the alarm system when they sense impacts applied to the vehicle and when any of their electric wires is cut. The alarm system causes the horn to sound and the turn signal ...
To arm the system using power door locking switch
1. Close all windows. 2. Remove the key from the ignition switch. 3. Open the doors and get out of the vehicle. 4. Make sure that the engine hood is locked. 5. Close the doors (and the rear gate ( ...