MODE button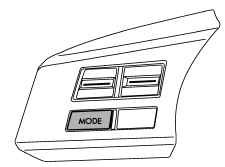 This button is used to select the desired audio mode. Each time it is pressed, the mode changes to the next one in the following sequence.

*1: The frequency last received in the selected waveband will be displayed.
*2: Only when a CD is in the player.
*3: Only when an auxiliary audio product is connected.
*4: Only when an iPod is connected using the iPod adapter that is available as a dealer option.