Cruise control set indicator light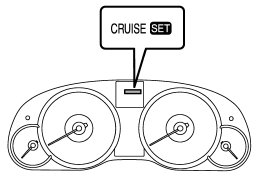 The cruise control set indicator light illuminates when the ignition switch is turned to the "ON" position and turns off after approximately 3 seconds.
The light illuminates when vehicle speed has been set.
See also:
Locking and unlocking from the inside
1) Lock 2) Unlock To lock the door from the inside, rotate the lock lever rearward. To unlock the door from the inside, rotate the lock lever forward. The red mark on the lock lever appears when ...
Adverse safety consequences of under-inflation
Driving at high speeds with excessively low tire pressures can cause the tires to flex severely and to rapidly become hot. A sharp in- crease in temperature could cause tread separation, and ...
Refueling in cold weather
To help prevent moisture from forming in the fuel system and the risk of its freezing, use of an antifreeze additive in the fuel tank is recommended during cold weather. Use only additives that ar ...