Help line
The help line (distance marker and vehicle width line) is a guide to help you realize the actual distance from the screen.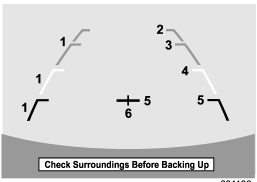 Help lines displayed on the navigation monitor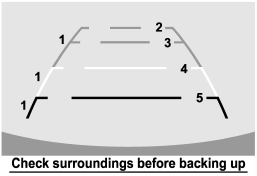 Help lines displayed on the inside mirror
1) Vehicle width line (oblique vertical line) 2) Approx. 10 feet (3 m) from the bumper (green horizontal line) 3) Approx. 6.5 feet (2 m) from the bumper (green horizontal line) 4) Approx. 3 feet (1 m) from the bumper (yellow horizontal line) 5) Approx. 1.5 feet (0.5 m) from the bumper (red horizontal line) 6) Vehicle centerline
When the shift lever or select lever is set to position "R", the monitor screen displays the help lines together with the rear view image.
CAUTION
● When moving backward, always check the back with your eyes without relying on the help lines.
● The actual position may be different from the indication of the help lines.
● Differences may occur due to number of passengers or loaded cargo.
● When the vehicle is on a slope or when the vehicle is inclined against the road, the indication is different from the actual position.
See also:
Parking on a grade
Always block the wheels under both vehicle and trailer when parking. Apply the parking brake firmly. You should not park on a hill or slope. But if parking on a hill or slope cannot be avoided ...
Synthetic leather upholstery
The synthetic leather material used on the SUBARU may be cleaned using mild soap or detergent and water, after first vacuuming or brushing away loose dirt. Allow the soap to soak in for a few minutes ...
Vehicle Dynamics Control OFF switch
Pressing the switch to deactivate the Vehicle Dynamics Control system can facilitate the following operations. ● a standing start on a steeply sloping road with a snowy, gravel-covered, or ...