Ashtray (if equipped)
CAUTION
● Do not use ashtrays as waste receptacles or leave a lighted cigarette in an ashtray. This could cause a fire.
● Always extinguish matches and cigarettes before putting them into the ashtray, and then close the ashtray securely. If you keep the ashtray open, the fire of the cigarette may spread to another cigarette butt and start a fire.
● Do not put flammable material in the ashtray.
● Do not leave a lot of cigarette butts in the ashtray.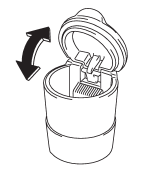 The portable ashtray can be installed in each cup holder. For the locations of the cup holders, refer to "Cup holder" F6-8. When using the ashtray, open the lid of the ashtray. When removing the ashtray from a cup holder, pull the ashtray upwards. Fully close the lid after using the ashtray to help reduce residual smoke.
NOTE
Particles of ash and tobacco will accumulate around the hinges of the ashtray's inner lid. Clean them off using a toothbrush or another narrow-ended implement.
See also:
Security ID plate
Security ID plate 1) Key number plate 2) Security ID plate The security ID is stamped on the security ID plate attached to the key set. Write down the security ID and keep it in another sa ...
Deleting old transmitter codes
The control unit of the remote keyless entry system has four memory locations to store transmitter codes, giving it the ability to operate with up to four transmitters. When you lose a transmitter ...
REV indicator light (STI)
This light illuminates when the engine speed reaches a level set by driver or when the tachometer needle enters the red zone. ...