Ashtray (if equipped)
CAUTION
● Do not use ashtrays as waste receptacles or leave a lighted cigarette in an ashtray. This could cause a fire.
● Always extinguish matches and cigarettes before putting them into the ashtray, and then close the ashtray securely. If you keep the ashtray open, the fire of the cigarette may spread to another cigarette butt and start a fire.
● Do not put flammable material in the ashtray.
● Do not leave a lot of cigarette butts in the ashtray.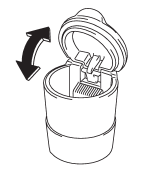 The portable ashtray can be installed in each cup holder. For the locations of the cup holders, refer to "Cup holder" F6-8. When using the ashtray, open the lid of the ashtray. When removing the ashtray from a cup holder, pull the ashtray upwards. Fully close the lid after using the ashtray to help reduce residual smoke.
NOTE
Particles of ash and tobacco will accumulate around the hinges of the ashtray's inner lid. Clean them off using a toothbrush or another narrow-ended implement.
See also:
Deleting device
1. Select the "DELETE AUDIO" (type C audio)/"Delete Audio Player" (type D audio) menu. If no devices are registered, "EMPTY" is displayed and the mode changes to the Bluetooth® audio setting ...
Examples of the types of accidents in which the SRS side airbag is unlikely to deploy.
1) The vehicle is involved in an oblique side-on impact. 2) The vehicle is involved in a side-on impact in an area outside the vicinity of the passenger compartment. 3) The vehicle strikes a ...
Trunk lid (Legacy)
WARNING ● To prevent dangerous exhaust gas from entering the vehicle, always keep the trunk lid closed while driving. ● Help prevent children, adults or animals from locking themselves ...