Inserting a disc in a desired position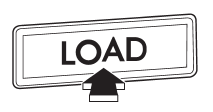 1. Briefly press the "LOAD" button. If the magazine in the player has an idle position where you can insert a disc, the disc number indicator associated with the idle position will blink.
The positions in the magazine the indicator of which steadily lights up are already loaded with discs.

Disc select buttons
2. Press the disc select button at the position where you want to insert a disc.
3. When the "LOAD" indicator illuminates, insert the disc. Once you have inserted the disc, the "LOAD" indicator will turn off. The disc will then be automatically drawn in, and the player will begin to play the first track on the disc.
● If you wish to insert another disc, repeat the procedure beginning with step 1.
● If you do not insert any disc in 15 seconds after you have pressed the "LOAD" button, the player will return to the original mode that was selected before the "LOAD" button was pressed.
● While the player is in the loading mode, if you press "FM", "AM" or "SAT" button, the player will enter standby mode. Press the "CD/AUX" button to start playback.
See also:
Precautions for AWD models with automatic transmission
Your vehicle is equipped with the AWD (All-Wheel Drive) system. In addition, if your vehicle is an AT model, before driving your vehicle with the temporary spare tire, deactivate the AWD capability of ...
Compass zone adjustment
Compass calibration zones 1. Refer to the "Compass calibration zones" map shown above to verify that the compass zone setting is correct for your geographical location. 2. Press and hold the swi ...
Operation
If the driver and/or front passenger have/ has not yet fastened the seatbelt(s) when the ignition switch is turned to the "ON" position, the seatbelt warning light(s) will flash for 6 seconds, to ...