Inserting a disc in a desired position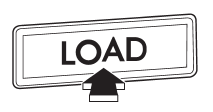 1. Briefly press the "LOAD" button. If the magazine in the player has an idle position where you can insert a disc, the disc number indicator associated with the idle position will blink.
The positions in the magazine the indicator of which steadily lights up are already loaded with discs.

Disc select buttons
2. Press the disc select button at the position where you want to insert a disc.
3. When the "LOAD" indicator illuminates, insert the disc. Once you have inserted the disc, the "LOAD" indicator will turn off. The disc will then be automatically drawn in, and the player will begin to play the first track on the disc.
● If you wish to insert another disc, repeat the procedure beginning with step 1.
● If you do not insert any disc in 15 seconds after you have pressed the "LOAD" button, the player will return to the original mode that was selected before the "LOAD" button was pressed.
● While the player is in the loading mode, if you press "FM", "AM" or "SAT" button, the player will enter standby mode. Press the "CD/AUX" button to start playback.
See also:
Tires
*: This torque is equivalent to applying approximately 88 to 110 lbf (40 to 50 kgf) at the edge of the wheel nut wrench. If you have tightened the wheel nuts by yourself, have the tightening tor ...
System servicing
- When discarding a seatbelt retractor assembly or scrapping the entire vehicle damaged by a collision, consult your SUBARU dealer. - Tampering with or disconnecting the system's wiring ...
Expectant mothers
Expectant mothers also need to use the seatbelts. They should consult their doctor for specific recommendations. The lap belt should be worn securely and as low as possible over the hips, not ov ...