Inserting a disc in a desired position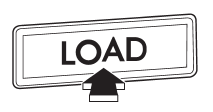 1. Briefly press the "LOAD" button. If the magazine in the player has an idle position where you can insert a disc, the disc number indicator associated with the idle position will blink.
The positions in the magazine the indicator of which steadily lights up are already loaded with discs.

Disc select buttons
2. Press the disc select button at the position where you want to insert a disc.
3. When the "LOAD" indicator illuminates, insert the disc. Once you have inserted the disc, the "LOAD" indicator will turn off. The disc will then be automatically drawn in, and the player will begin to play the first track on the disc.
● If you wish to insert another disc, repeat the procedure beginning with step 1.
● If you do not insert any disc in 15 seconds after you have pressed the "LOAD" button, the player will return to the original mode that was selected before the "LOAD" button was pressed.
● While the player is in the loading mode, if you press "FM", "AM" or "SAT" button, the player will enter standby mode. Press the "CD/AUX" button to start playback.
See also:
Rear window side seating position
1) Head restraint 2) Release button To raise: Pull the head restraint up. To lower: Push the head restraint down while pressing the release button on the top of the seatback. To remove: Whil ...
All AWD models except OUTBACK
Your AWD model is neither a conventional off-road vehicle nor an all terrain vehicle. It is a passenger vehicle designed primarily for on-road use. The AWD feature gives it some limited off-road capab ...
Driving in foreign countries
When planning to use your vehicle in another country: - Confirm the availability of the correct fuel. Refer to "Fuel requirements". - Comply with all regulations and requirements of each coun ...