A/C – Air conditioner button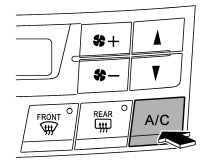 If the windshield starts to fog when the climate control system is operated in the AUTO mode, press the air conditioner button "A/C" to defog and dehumidify. When this button is pressed, the air conditioner compressor turns on and the indicator light "A/C" on the display illuminates.
To turn off the air conditioner compressor, press the "A/C" button again.
NOTE
The air conditioner compressor does not operate when the outside air temperature is below 328F (08C).
See also:
Using a warm water washer
● Keep a good distance of 12 in (30 cm) or more between the washer nozzle and the vehicle. ● Do not wash the same area continuously. ● If a stain will not come out easily, wash b ...
Shock sensors (dealer option)
The shock sensors trigger the alarm system when they sense impacts applied to the vehicle and when any of their electric wires is cut. The alarm system causes the horn to sound and the turn signal ...
Immobilizer
The immobilizer system is designed to prevent an unauthorized person from starting the engine. Only keys registered with your vehicle's immobilizer system can be used to operate your vehicle. Even ...