Driver's Control Center Differential (DCCD) (STI)

Always use the utmost care when driving. Being overconfident because you are driving a vehicle with a driver's control center differential could easily lead to a serious accident.

All the indicator lights will flash in the event that the driver's control center differential has a malfunction.
Have the vehicle inspected by your SUBARU dealer.
The driver's control center differential allows you to freely change the degree of limitation of the differential action (limited slip differential (LSD) torque) of your vehicle's center differential.
By using the center differential control switch, you can set an initial LSD torque to match the road surface conditions, driving conditions and your driving style.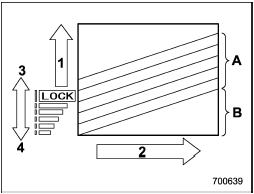 1) LSD torque
2) Traction torque
3) Initial LSD torque (maximum)
4) Initial LSD torque (minimum)
A) Initial LSD torque (adjustable)
B) Mechanical LSD torque
The driver's control center differential has an auto mode and a manual mode. In the auto mode, the system automatically adjusts the initial LSD torque. In the manual mode, you can change to the desired mode manually by using the center differential control switch.
NOTE
If you rapidly depress and release the accelerator pedal while driving at low speed, you may hear a knocking sound from the vicinity of the center differential and rear differential. This sound occurs because of the structure of the center differential. It does not indicate a problem.
See also:
Map light
Models with moonroof Models without moonroof To turn on the map light, press the switch. To turn it off, press the switch again. When leaving the vehicle, make sure the lights are turned off t ...
XMTM satellite radio reception tips for antenna on the windshield (for U.S.A. only — if equipped)
For some models, the satellite radio antenna is fixed to the upper right hand corner of the windshield. The XMTM satellite radio receiver that is fitted to your vehicle receives the necessary signa ...
Driving tips for AWD vehicles
WARNING ● Always maintain a safe driving speed according to the road and weather conditions in order to avoid having an accident on a sharp turn, during sudden braking or under other simila ...