Floor mat (if equipped)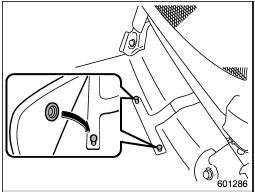 Floor mat (if equipped)
Retaining pins are located on the driver's side floor.
The floor mat is secured using the built-in grommets, by placing the grommets over the pins and pushing them downward.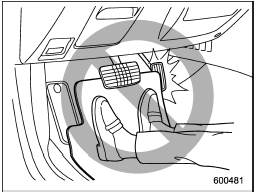 Make sure the driver's floor mat is placed back in its proper location and correctly secured on its retaining pins. Also, do not use more than one floor mat. If the floor mat slips forward and interferes with the movement of the pedals during driving, it could cause an accident.
See also:
Bluetooth® audio (type C and D audio)
This function enables you to play back audio sources from Bluetooth® audio devices. You need to register the Bluetooth ® audio device in the system before using it. ...
Pre-heating or pre-cooling the interior of the vehicle
Before exiting the vehicle, set the temperature controls to the desired setting and operation. After the system starts the vehicle, the heater or air-conditioning will activate and heat or coo ...
Safety symbol
You will find a circle with a slash through it in this manual. This symbol means "Do not", "Do not do this", or "Do not let this happen", depending upon the context. ...