Floor mat (if equipped)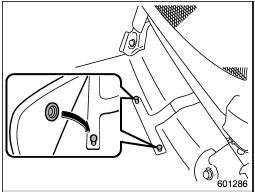 Floor mat (if equipped)
Retaining pins are located on the driver's side floor.
The floor mat is secured using the built-in grommets, by placing the grommets over the pins and pushing them downward.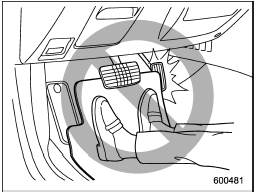 Make sure the driver's floor mat is placed back in its proper location and correctly secured on its retaining pins. Also, do not use more than one floor mat. If the floor mat slips forward and interferes with the movement of the pedals during driving, it could cause an accident.
See also:
Maintenance precautions
When maintenance and service are required, it is recommended that all work be done by an authorized SUBARU dealer. If you perform maintenance and service by yourself, you should familiarize you ...
Gross Axle Weight (GAW) and Gross Axle Weight Rating (GAWR)
Gross Axle Weight The total weight applied to each axle (GAW) must never exceed the Gross Axle Weight Rating (GAWR). The front and rear GAWs can be adjusted by relocating passengers and luggage ...
Checking the clutch function
Check the clutch engagement and disengagement. 1. With the engine idling, check that there are no abnormal noises when the clutch pedal is depressed, and that shifting into 1st or reverse feels ...