Roof rails with integrated crossbars (Outback)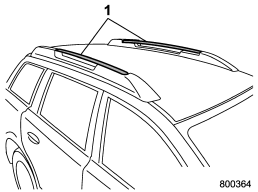 1) Integrated crossbars
CAUTION
● For cargo carrying purposes, the bars must be used as crossbars and be used together with the genuine SUBARU carrying attachment. The bars must never be used alone to carry cargo. Otherwise, damage to the roof or paint or a dangerous road hazard due to loss of cargo could result.
● When using the bars as crossbars, make sure that the total weight of the carrying attachment and cargo does not exceed the maximum load limit. Overloading may cause damage to the vehicle and create a safety hazard.
The bars can be used as crossbars. Cargo can be carried after setting the bars as crossbars and installing the genuine SUBARU carrying attachment.
When you carry cargo on the roof using the crossbars and a carrying attachment, never exceed the maximum load limit explained in the following. You should also be careful that your vehicle does not exceed the Gross Vehicle Weight Rating (GVWR) and front and rear Gross Axle Weight Rating (GAWR). For information on loading cargo into or onto your vehicle, refer to "Loading your vehicle" F8-12. The maximum load limit of the cargo and carrying attachment must not exceed the allowable load limit described in the Owner's Manual of a genuine SUBARU carrying attachment. Place the heaviest load at the bottom, nearest the roof, and evenly distribute the cargo. Always properly secure all cargo.
See also:
Gasoline for cleaner air
Your use of gasoline with detergent additives will help prevent deposits from forming in your engine and fuel system. This helps keep your engine in tune and your emission control system working prop ...
Safety symbol
You will find a circle with a slash through it in this manual. This symbol means "Do not", "Do not do this", or "Do not let this happen", depending upon the context. ...
Type B
Although this climate control system can be used as a full-automatic climate control system, it can also, if desired, be used as a semi-automatic climate control system. When it is used as a fu ...