Rear ashtray (STI – if equipped)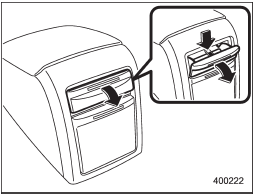 Rear ashtray (STI – if equipped)
The rear ashtray is located on the upper side of the back of the center console. To open the ashtray, pull the upper edge of the lid.
Fully close the lid after using the ashtray to help reduce residual smoke.
To remove the ashtray for cleaning, open it and pull it out while pushing the inner plate down.