Towing
If towing is necessary, it is best done by your SUBARU dealer or a commercial towing service. Observe the following procedures for safety.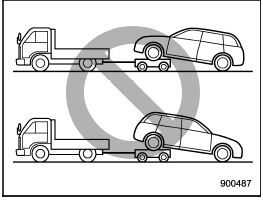 Never tow AWD models (both AT and MT) with the front wheels raised off the ground while the rear wheels are on the ground, or with the rear wheels raised off the ground while the front wheels are on the ground.
This will cause the vehicle to spin away due to the operation or deterioration of the center differential.
See also:
Power switch and volume control
Type A and B audio Type C audio The dial is used for both power (ON/OFF) and volume control. The radio is turned ON and OFF by pushing the dial, and the volume is controlled by turning the dial. ...
Safety warnings
You will find a number of WARNINGs, CAUTIONs and NOTEs in this manual. These safety warnings alert you to potential hazards that could result in injury to you or others. Please read these safety ...
Function settings
A SUBARU dealer can change the settings of the functions shown in the following table to meet your personal requirements. Contact the nearest SUBARU dealer for details. ...