Locking and unlocking from the inside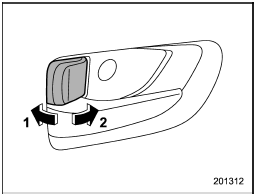 1) Lock
2) Unlock
To lock the door from the inside, rotate the lock lever rearward. To unlock the door from the inside, rotate the lock lever forward.
The red mark on the lock lever appears when the door is unlocked.
Pull the inside door handle to open an unlocked door.
Always make sure that all doors and the rear gate (for 5-door) are closed before starting to drive.

Keep all doors locked when you drive, especially when small children are in your vehicle.
Along with the proper use of seatbelts and child restraints, locking the doors reduces the chance of being thrown out of the vehicle in an accident.
It also helps prevent passengers from falling out if a door is accidentally opened, and intruders from unexpectedly opening doors and entering your vehicle.
See also:
Corrosion protection
Your SUBARU has been designed and built to resist corrosion. Special materials and protective finishes have been used on most parts of the vehicle to help maintain fine appearance, strength, a ...
Other bulbs
It may be difficult to replace the bulbs. Have the bulbs replaced by your SUBARU dealer if necessary. ...
Rear gate
The rear gate can be locked and unlocked using any of the following systems. - Power door locking switch: Refer to "Power door locking switches". - Remote keyless entry system: Refer to "Rem ...