Locking and unlocking from the inside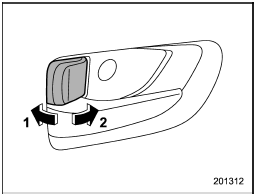 1) Lock
2) Unlock
To lock the door from the inside, rotate the lock lever rearward. To unlock the door from the inside, rotate the lock lever forward.
The red mark on the lock lever appears when the door is unlocked.
Pull the inside door handle to open an unlocked door.
Always make sure that all doors and the rear gate (for 5-door) are closed before starting to drive.

Keep all doors locked when you drive, especially when small children are in your vehicle.
Along with the proper use of seatbelts and child restraints, locking the doors reduces the chance of being thrown out of the vehicle in an accident.
It also helps prevent passengers from falling out if a door is accidentally opened, and intruders from unexpectedly opening doors and entering your vehicle.
See also:
Cleaning the interior
Use a soft, damp cloth to clean the climate control panel, audio equipment, instrument panel, center console, combination meter panel, and switches. (Do not use organic solvents.) ...
Connectable iPod® models Type C audio:
Type D audio: Do not connect an iPod® other than the previously stated models. Doing so may result in a malfunction or, depending on conditions, cause a fire. NOTE - iPod® is a reg ...
Backward direction
Turn the "TUNE/TRACK/CH" dial counterclockwise to skip to the beginning of the current track/file (track). Each time the dial is turned, the indicated track/file (track) number will decrease. N ...