Locking and unlocking from the inside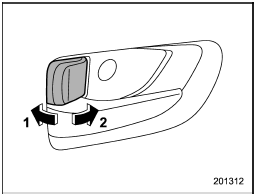 1) Lock
2) Unlock
To lock the door from the inside, rotate the lock lever rearward. To unlock the door from the inside, rotate the lock lever forward.
The red mark on the lock lever appears when the door is unlocked.
Pull the inside door handle to open an unlocked door.
Always make sure that all doors and the rear gate (for 5-door) are closed before starting to drive.

Keep all doors locked when you drive, especially when small children are in your vehicle.
Along with the proper use of seatbelts and child restraints, locking the doors reduces the chance of being thrown out of the vehicle in an accident.
It also helps prevent passengers from falling out if a door is accidentally opened, and intruders from unexpectedly opening doors and entering your vehicle.
See also:
Operation during cold weather
Carry some emergency equipment, such as a window scraper, a bag of sand, flares, a small shovel and jumper cables. Check the battery and cables. Cold temperatures reduce battery capacity. The ba ...
Arming the system
CAUTION In passive mode, the system will automatically activate the alarm but WILL NOT automatically lock the doors. In order to lock the doors you must either lock them as indicated in step 4 be ...
Tire pressures and wear
Maintaining the correct tire pressures helps to maximize the tires' service lives and is essential for good running performance. Check and, if necessary, adjust the pressure of each tire (including t ...