Starting your vehicle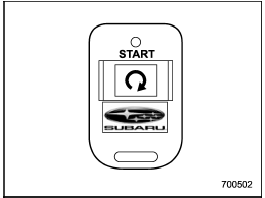 Starting your vehicle
The remote control start system is activated by pressing the "

" button twice within 3 seconds on your remote control transmitter. The system will check certain pre-conditions before starting, and if all safety parameters are correct, the engine will start within 5 seconds. While the vehicle is operating via remote engine start, the vehicle's power window features will be disabled. Also, the system has a timer and will shut down after 15 minutes if you do not operate the vehicle. Press and hold the "

" button for 2 seconds again to turn the vehicle off. If the vehicle's starter cranks but does not start or starts and stalls, the remote engine start system will power off then attempt to start the vehicle an additional four times. If the vehicle fails to start after the additional attempts, the remote engine start system will abort and return to a non-activated state.
See also:
Corresponding profiles for the cell phone
- HFP (Hands Free Profile): Ver. 1.0 - OPP (Object Push Profile): Ver. 1.1 ...
How to preset stations
1. Press the "FM" or "AM" button to select FM1, FM2, FM3 or AM reception. 2. Press the "" or "" side of the "SEEK" button or tune the radio manually until the desired station frequency is displa ...
Maximum allowable speeds
The following tables show the maximum speeds that are possible with each different gear. Never exceed the speed limit listed in the following table for each gear position except for brief acc ...