Type B seat heater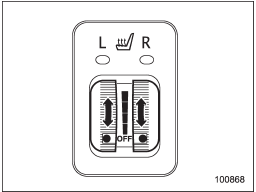 Type B seat heater
Each seat heater has four levels of adjustment. To use the heater in the right-hand seat, turn the "R" adjustment dial forward until the "

" mark reaches the desired position. To activate the heater in the left-hand seat, turn the "L" adjustment dial forward until the "

" mark reaches the desired position. Each heater warms the seat most quickly with the "

" mark on the adjustment dial in the furthest-forward position. An indicator light next to the adjustment dial for each seat heater illuminates when that seat heater is activated.
When the vehicle's interior is warmed enough or before you leave the vehicle, always turn the adjustment dial to the most rearward position so that the "

" mark reaches to the "OFF" position.
See also:
Lubrication oil circulation in the refrigerant circuit
Operate the air conditioner compressor at a low engine speed (at idle or low driving speeds) a few minutes each month during the off-season to circulate its oil. ...
Bluetooth® audio operation
NOTE Depending on the connected device, it may not activate as per the following items or not work smoothly. ...
Menu list of the Hands-free system
Turn the "TUNE/TRACK/CH" dial to select a menu, and then press the dial to enter the selected menu. *: If a cell phone is not registered, the menu described in the chart is not indicated. ...