Type B seat heater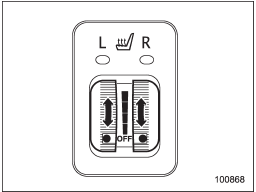 Type B seat heater
Each seat heater has four levels of adjustment. To use the heater in the right-hand seat, turn the "R" adjustment dial forward until the "

" mark reaches the desired position. To activate the heater in the left-hand seat, turn the "L" adjustment dial forward until the "

" mark reaches the desired position. Each heater warms the seat most quickly with the "

" mark on the adjustment dial in the furthest-forward position. An indicator light next to the adjustment dial for each seat heater illuminates when that seat heater is activated.
When the vehicle's interior is warmed enough or before you leave the vehicle, always turn the adjustment dial to the most rearward position so that the "

" mark reaches to the "OFF" position.
See also:
Air filtration system
Replace the filter element according to the replacement schedule as follows. This schedule should be followed to maintain the filter's dust collection ability. Under extremely dusty conditions ...
Select lever
The select lever has four positions, "P", "R", "N", "D" and also has a manual gate for using the manual mode. ...
Before driving your vehicle
Before entering the vehicle, remove any snow or ice from your shoes because that could make the pedals slippery and driving dangerous. While warming up the vehicle before driving, check that the ac ...