Ashtray (if equipped)

- Do not use ashtrays as waste receptacles or leave a lighted cigarette in an ashtray. This could cause a fire.
- Always extinguish matches and cigarettes before putting them into the ashtray, and then close the ashtray securely. If you keep the ashtray open, the fire on the cigarette tip may spread to another cigarette butt and start a fire.
- Do not put flammable material in the ashtray.
- Do not leave a lot of cigarette butts in the ashtray.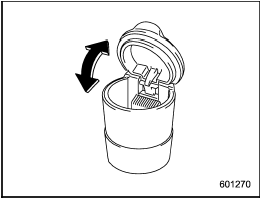 The portable ashtray can be installed in each cup holder. For the locations of the cup holders, refer to "Cup holders".
When using the ashtray, open the lid of the ashtray. When removing the ashtray from a cup holder, pull the ashtray upwards.
Fully close the lid after using the ashtray to help reduce residual smoke.
NOTE
Particles of ash and tobacco will accumulate around the hinges of the ashtray's inner lid. Clean them off using a toothbrush or another narrow-ended implement.
See also:
Entering the vehicle while it is running via remote start
1. Unlock the vehicle doors using the keyless entry system. If the vehicle's doors are unlocked manually using the key, the vehicle's alarm system will trigger and the remote engine start syst ...
Programming the transmitters
The remote keyless entry system is equipped with a special code learning feature that allows you to program new transmitter codes into the system or to delete old ones. The system can learn up to four ...
Before starting out on a trip
● Check that the vehicle and vehicle-tohitch mounting are in good condition. If any problems are apparent, do not tow the trailer. ● Check that the vehicle sits horizontally with the tr ...