Compass zone adjustment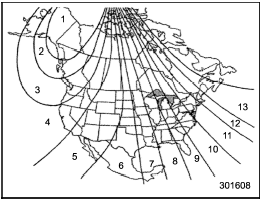 Compass calibration zones
1. The zone setting is factory preset to Zone 8. Refer to the "Compass calibration zones" map shown above to verify that the compass zone setting is correct for your geographical location.
2. Press and hold the right button for 3 seconds then release, and the word "ZONE" will briefly appear and then the zone number will be displayed.
3. Press the right-hand button repeatedly to cycle the display through all possible zone settings. Stop cycling when the correct zone setting for your location is displayed.
4. Releasing the button for 3 seconds will exit the zone setting mode.