Auto-dimming mirror/compass (if equipped)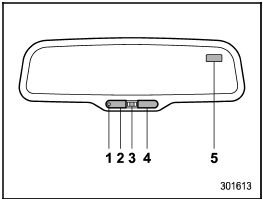 Auto-dimming mirror/compass (if equipped)
1) Auto dimming indicator
2) Left (mirror) button
3) Photosensor
4) Right (compass) button
5) Compass display
The auto-dimming mirror has an anti-glare feature which automatically reduces glare coming from headlights of vehicles behind you. It also contains a built-in compass.
- By pressing and releasing the left button, the automatic dimming function is toggled on or off. When the automatic dimming function is on, the auto dimming indicator light (green) located on the left button will illuminate.
- By pressing and releasing the right button, the compass display is toggled on or off. When the compass is on, an illuminated compass reading will appear in the upper right corner of the mirror.
Even with the mirror in anti-glare mode, the mirror surface turns bright if the transmission is shifted into reverse. This is to ensure good rearward visibility during reversing.
See also:
Fuel octane rating
This octane rating is the average of the Research Octane and Motor Octane numbers and is commonly referred to as the Anti Knock Index (AKI). Using a gasoline with a lower octane rating can cause p ...
Corrosion protection
Refer to "Corrosion protection" F10-4. ...
Rear view camera (if equipped)
Legacy A rear view camera is attached to the trunk lid (Legacy) or rear gate (Outback). When the ignition switch is "ON" and the shift lever (MT models) or select lever (AT or CVT models) is se ...