Maximum allowable speeds
WARNING
When shifting down a gear, ensure that the vehicle is not travelling at a speed exceeding the Maximum Allowable Speed for the gear which is about to be selected. Failure to observe this precaution can lead to engine over-revving and this in turn can result in engine damage.
In addition, sudden application of engine brakes when the vehicle is travelling on a slippery surface can lead to wheel locking; as a consequence, control of the vehicle may be lost and the risk of an accident increased.
The following table shows the maximum speeds that are possible with each different gear. The tachometer's needle will enter the red area if these speeds are exceeded.
With the exception of cases where sudden acceleration is required, the vehicle should not be driven with the tachometer's needle inside the red area. Failure to observe this precaution can lead to excessive engine wear and poor fuel economy.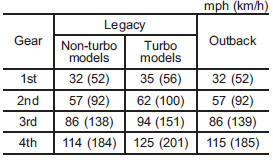 NOTE
Never exceed posted speed limits.
See also:
Key lock-in prevention function
This function prevents the doors from being locked with the key still in the ignition switch. ...
Head restraint adjustment
1) Head restraint 2) Release button Both the driver's seat and the front passenger's seat are equipped with head restraints. The head restraint should be adjusted so that the center of the ...
Heating and defrosting
Heating and defrosting To direct warm air toward the floor and the windshield: 1. Set the airflow control dial to the "" position. 2. Set the temperature control dial to the most comfortable level. ...