Maximum allowable speeds
WARNING
When shifting down a gear, ensure that the vehicle is not travelling at a speed exceeding the Maximum Allowable Speed for the gear which is about to be selected. Failure to observe this precaution can lead to engine over-revving and this in turn can result in engine damage.
In addition, sudden application of engine brakes when the vehicle is travelling on a slippery surface can lead to wheel locking; as a consequence, control of the vehicle may be lost and the risk of an accident increased.
The following table shows the maximum speeds that are possible with each different gear. The tachometer's needle will enter the red area if these speeds are exceeded.
With the exception of cases where sudden acceleration is required, the vehicle should not be driven with the tachometer's needle inside the red area. Failure to observe this precaution can lead to excessive engine wear and poor fuel economy.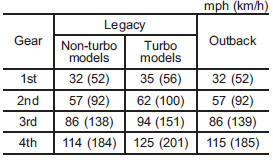 NOTE
Never exceed posted speed limits.
See also:
Tire rotation direction mark
Example of tire rotation direction mark 1) Front If the tire has the rotation direction specification, the tire rotation direction mark is placed on its sidewall. When you install a tire that has t ...
Cleaning ventilator grille
Always keep the front ventilator inlet grille free of snow, leaves, or other obstructions to ensure efficient heating and defrosting. Since the condenser is located in front of the radiator, thi ...
Installation of accessories
Always consult your SUBARU dealer before installing a citizen band radio or other transmitting device in your vehicle. Such devices may cause the electronic control system to malfunction if they a ...