Maximum allowable speeds
WARNING
When shifting down a gear, ensure that the vehicle is not travelling at a speed exceeding the Maximum Allowable Speed for the gear which is about to be selected. Failure to observe this precaution can lead to engine over-revving and this in turn can result in engine damage.
In addition, sudden application of engine brakes when the vehicle is travelling on a slippery surface can lead to wheel locking; as a consequence, control of the vehicle may be lost and the risk of an accident increased.
The following table shows the maximum speeds that are possible with each different gear. The tachometer's needle will enter the red area if these speeds are exceeded.
With the exception of cases where sudden acceleration is required, the vehicle should not be driven with the tachometer's needle inside the red area. Failure to observe this precaution can lead to excessive engine wear and poor fuel economy.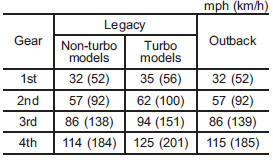 NOTE
Never exceed posted speed limits.
See also:
ECO gauge
1) U.S.-spec. models 2) Except U.S.-spec. models The ECO gauge shows the difference between the average rate of fuel consumption and the current rate of fuel consumption. Using the average rate ...
2011 Subaru Impreza WRX STi review By Scott Burgess
We all play favorites. Is that why we have elections? Or is it just for the commercials? In the automotive world, car buyers play favorites as well ∔ weighing the pros and cons of differ ...
Besting Midsize Benchmarks
Built on an all-new platform, the 2010 Subaru Legacy offers roominess comparable to mainstream midsize sedans, with a focus on usable space and long-distance driving comfort. The wheelbase grows t ...