Maximum allowable speeds
WARNING
When shifting down a gear, ensure that the vehicle is not travelling at a speed exceeding the Maximum Allowable Speed for the gear which is about to be selected. Failure to observe this precaution can lead to engine over-revving and this in turn can result in engine damage.
In addition, sudden application of engine brakes when the vehicle is travelling on a slippery surface can lead to wheel locking; as a consequence, control of the vehicle may be lost and the risk of an accident increased.
The following table shows the maximum speeds that are possible with each different gear. The tachometer's needle will enter the red area if these speeds are exceeded.
With the exception of cases where sudden acceleration is required, the vehicle should not be driven with the tachometer's needle inside the red area. Failure to observe this precaution can lead to excessive engine wear and poor fuel economy.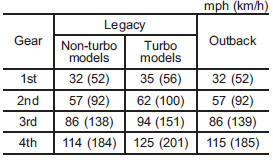 NOTE
Never exceed posted speed limits.
See also:
When the brakes get wet
When driving in rain or after washing the vehicle, the brakes may get wet. As a result, brake stopping distance will be longer. To dry the brakes, drive the vehicle at a safe speed while lightly depre ...
Legacy Wagon
Other than the substitution of the wagon body at the rear, the Legacy wagon is nearly identical to the sedan models in the lineup. The wagon's cargo volume is 34.3 cubic feet with the backseat up ...
Wiper operation when snowing
Before driving in cold weather, make sure the wiper blades are not frozen to the windshield or rear window. If the wiper blades are frozen to the windshield or rear window, perform the following ...