Installing a rearward facing child restraint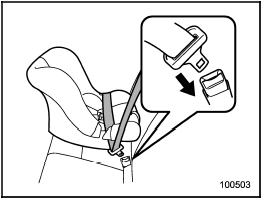 1. Place the child restraint system in the rear seating position.
2. Run the lap and shoulder belt through or around the child restraint system following the instructions provided by its manufacturer.
3. Insert the tongue plate into the buckle until you hear a click.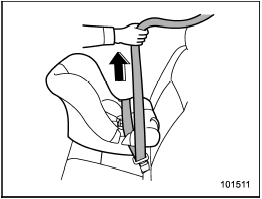 4. Take up the slack in the lap belt.
5. Pull out the seatbelt fully from the retractor to change the retractor over from the Emergency Locking Retractor (ELR) to the Automatic Locking Retractor (ALR) function. Then, allow the belt to rewind into the retractor. As the belt is rewinding, clicks will be heard which indicate the retractor functions as ALR.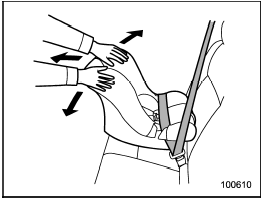 6. Push and pull the child restraint system forward and from side to side to check if it is firmly secured. Sometimes a child restraint can be more firmly secured by pushing it down into the seat cushion and then tightening the seatbelt.
7. Pull at the shoulder portion of the belt to confirm that it cannot be pulled out (ALR properly functioning).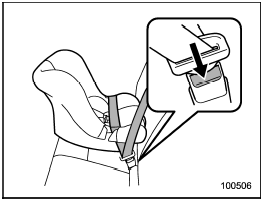 8. To remove the child restraint system, press the release button on the seatbelt buckle and allow the belt to retract completely. The belt will return to the ELR mode.

NEVER INSTALL A REARWARD FACING CHILD SEAT IN THE FRONT PASSENGER'S SEAT. DOING SO RISKS SERIOUS INJURY OR DEATH TO THE CHILD BY PLACING THE CHILD'S HEAD TOO CLOSE TO THE SRS AIRBAG.
NOTE
When the child restraint system is no longer in use, remove it and restore the ELR function of the retractor. That function is restored by allowing the seatbelt to retract fully.
See also:
SPORT mode
SPORT mode is used when power is needed for rapid acceleration or for uphill driving. To select this mode, move the select lever from the "D" position to the manual gate. When selected, the SPORT ...
Key lock-in prevention function
This function prevents the doors from being locked with the key still in the ignition switch. ...
Abbreviation list
You will find several abbreviations in this manual. The meanings of the abbreviations are shown in the following list. ...