Unfastening the seatbelt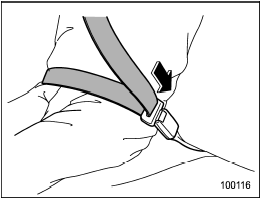 Unfastening the seatbelt
Push the release button of the center seatbelt buckle (on the left-hand side) to unfasten the seatbelt.
NOTE
When the seatback is folded down for greater cargo area, it is necessary to disconnect the connector.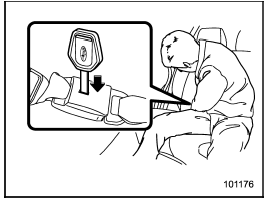 1. Insert a key or other hard pointed object into the slot in the connector (buckle) on the right-hand side and push it in, and the connector (tongue) plate will disconnect from the buckle.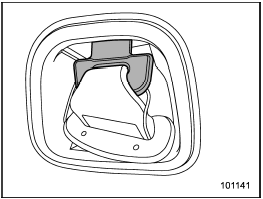 2. Allow the retractor to roll up the belt.
You should hold the webbing end and guide it back into the retractor while it is rolling up. Neatly store the tongue plate in the recessed compartment and then insert the connector (tongue) plate into the slot.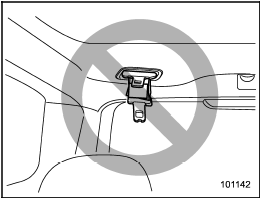 - Do not allow the retractor to roll up the seatbelt too quickly.
Otherwise, the metal tongue plates may hit against the trim, resulting in damaged trim.
- Have the seatbelt fully rolled up so that the tongue plates are neatly stored. A hanging tongue plate can swing and hit against the trim during driving, causing damage to the trim.
See also:
Seatbelt warning light and chime
NOTE If your seatbelt warning device does not operate as described in the following, it may be out of order. Have the device inspected and, if necessary, repaired by the nearest SUBARU dealer. Y ...
Trunk light (Legacy)
1. Push both sides of the light cover, and then remove the cover by pulling it out. 2. Pull the bulb out of the socket. 3. Install a new bulb. 4. Reinstall the cover. ...
Registering by inputting manually
1. Select the "PHONE BOOK" menu. 2. Select the "ADD ENTRY" menu. 3. Select the "MANUAL INPUT" menu by operating the "TUNE/TRACK/CH" dial. 4. Input the phone number to be registered. 5. Select the ...