Rear seatbelts (except rear center seatbelt)
1. Sit well back in the seat.
2. Pick up the tongue plate and pull the belt out slowly. Do not let it get twisted. If the belt stops before reaching the buckle, return the belt slightly and pull it out more slowly. If the belt still cannot be unlocked, let the belt retract slightly after giving a strong pull on it, then pull it out slowly again.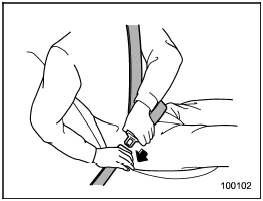 3. Insert the tongue plate into the buckle until you hear a click.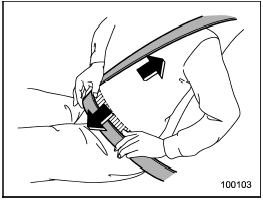 4. To make the lap part tight, pull up on the shoulder belt.
5. Place the lap belt as low as possible on your hips, not on your waist.
See also:
Gross Axle Weight (GAW) and Gross Axle Weight Rating (GAWR)
Gross Axle Weight The total weight applied to each axle (GAW) must never exceed the Gross Axle Weight Rating (GAWR). The front and rear GAWs can be adjusted by relocating passengers and luggage ...
Engine
...
2010 Subaru Legacy review
The 2010 Subaru Legacy's redesign has been long overdue. Its sophisticated new look is sleek, but as Mom always says it's what's on the inside that counts. The sedan's redesign added nearly 4 inch ...