Rear seatbelts (except rear center seatbelt)
1. Sit well back in the seat.
2. Pick up the tongue plate and pull the belt out slowly. Do not let it get twisted. If the belt stops before reaching the buckle, return the belt slightly and pull it out more slowly. If the belt still cannot be unlocked, let the belt retract slightly after giving a strong pull on it, then pull it out slowly again.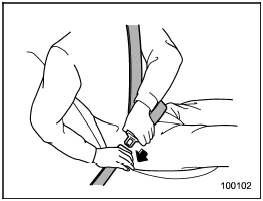 3. Insert the tongue plate into the buckle until you hear a click.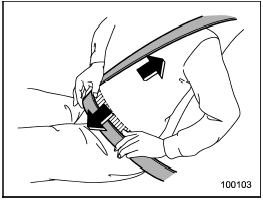 4. To make the lap part tight, pull up on the shoulder belt.
5. Place the lap belt as low as possible on your hips, not on your waist.
See also:
Safety symbol
You will find a circle with a slash through it in this manual. This symbol means "Do not", "Do not do this", or "Do not let this happen", depending upon the context. ...
When the following messages are displayed
If one of the following messages is displayed while operating the CD player, determine the cause based on the following information. If you cannot clear those messages, please contact your SUBARU deal ...
Help line
The help line (distance marker and vehicle width line) is a guide to help you realize the actual distance from the screen. Help lines displayed on the navigation monitor Help lines displayed o ...