Rear seatbelts (except rear center seatbelt)
1. Sit well back in the seat.
2. Pick up the tongue plate and pull the belt out slowly. Do not let it get twisted. If the belt stops before reaching the buckle, return the belt slightly and pull it out more slowly. If the belt still cannot be unlocked, let the belt retract slightly after giving a strong pull on it, then pull it out slowly again.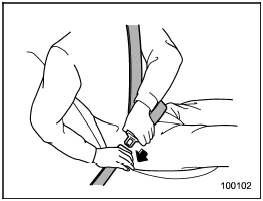 3. Insert the tongue plate into the buckle until you hear a click.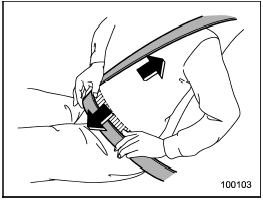 4. To make the lap part tight, pull up on the shoulder belt.
5. Place the lap belt as low as possible on your hips, not on your waist.
See also:
Checking the oil level
AT models 1) Yellow handle 1. Park the vehicle on a level surface and stop the engine. 2. Pull out the level gauge, wipe it clean, and insert it again. 1) Upper level 2) Lower level 3. Pull ...
How to jump start
1. Make sure the booster battery is 12 volts and the negative terminal is grounded. 2. If the booster battery is in another vehicle, do not let the two vehicles touch. 3. Turn off all unnecessary ...
4-door models
1. Remove the clip from the rear trunk trim with a screwdriver. 2. Open the rear portion of the side trunk trim panel. 1) Brake/tail and rear side marker light 2) Rear turn signal light 3) Bac ...