Loading all the magazine (full disc loading mode)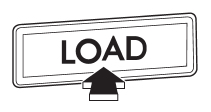 1. If you continue to press the "LOAD" button for more than 1.5 seconds, the player will produce beep sound and will enter the full disc loading mode.
2. When the disc number indicator flashes and "ALL LOAD" indicator illuminates, insert a disc within 15 seconds. If a disc is successfully loaded during this period, the disc number indicator will stop blinking and will steadily light.
3. When the loading of a disc is complete, the next idle disc number indicator will blink. Then repeat step 2.
4. When the magazine is filled with discs by repeating steps 2 and 3, the player will start playback of the discs, beginning with the one inserted first.
If you fail to insert any disc during each 15 seconds interval, the full disc loading mode will be canceled, and the player will start playback of the disc inserted first.
See also:
Cruise control set indicator light
The cruise control set indicator light illuminates when the ignition switch is turned to the "ON" position and turns off after approximately 3 seconds. The light illuminates when vehicle speed ha ...
Use of engine braking
Remember to make use of engine braking in addition to foot braking. When descending a grade, if only the foot brake is used, the brakes may start working improperly because of brake fluid overheating, ...
Seatbelt warning light and chime
Your vehicle is equipped with a seatbelt warning device at the driver's and front passenger's seat, as required by current safety standards. With the ignition switch turned to the "ON" position, th ...