Loading all the magazine (full disc loading mode)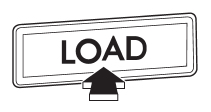 1. If you continue to press the "LOAD" button for more than 1.5 seconds, the player will produce beep sound and will enter the full disc loading mode.
2. When the disc number indicator flashes and "ALL LOAD" indicator illuminates, insert a disc within 15 seconds. If a disc is successfully loaded during this period, the disc number indicator will stop blinking and will steadily light.
3. When the loading of a disc is complete, the next idle disc number indicator will blink. Then repeat step 2.
4. When the magazine is filled with discs by repeating steps 2 and 3, the player will start playback of the discs, beginning with the one inserted first.
If you fail to insert any disc during each 15 seconds interval, the full disc loading mode will be canceled, and the player will start playback of the disc inserted first.
See also:
How to use the rear view camera
When the shift lever or select lever is set to "R", the rear view camera automatically displays the rear view image from the vehicle. When the lever is set to other positions, the image before set ...
Daytime running light system
WARNING The brightness of the illumination of the high beam headlights is reduced by the daytime running light system. The light switch must always be turned to the "" position when it is dark ou ...
Security setting - Setting PIN code
The PIN code is a 4-digit number and is used when locking the phonebook. 1. Select the "SET PIN" menu. Then "CURRENT PIN?" is displayed. 2. Input the current PIN code by operating the "TUNE/TR ...