Loading all the magazine (full disc loading mode)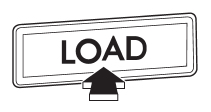 1. If you continue to press the "LOAD" button for more than 1.5 seconds, the player will produce beep sound and will enter the full disc loading mode.
2. When the disc number indicator flashes and "ALL LOAD" indicator illuminates, insert a disc within 15 seconds. If a disc is successfully loaded during this period, the disc number indicator will stop blinking and will steadily light.
3. When the loading of a disc is complete, the next idle disc number indicator will blink. Then repeat step 2.
4. When the magazine is filled with discs by repeating steps 2 and 3, the player will start playback of the discs, beginning with the one inserted first.
If you fail to insert any disc during each 15 seconds interval, the full disc loading mode will be canceled, and the player will start playback of the disc inserted first.
See also:
Vehicle Dynamics Control OFF indicator light
The light illuminates when the ignition switch is turned to the "ON" position and turns off after approximately 2 seconds. The light illuminates when the Vehicle Dynamics Control OFF switch is p ...
Auto-dimming mirror with compass (if equipped)
1) LED 2) Switch 3) Sensor 4) Compass display The auto-dimming mirror has an anti-glare feature which automatically reduces glare coming from headlights of vehicles behind you. It also contain ...
Towing with all wheels on the ground
1. Release the parking brake and put the transmission in the "N"/neutral position. 2. The ignition switch should be in the "Acc" position while the vehicle is being towed. 3. Take up slack in the ...