Floor mat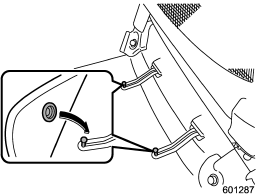 Retaining pins are located on the driver's side floor.
The floor mat is secured using the built-in grommets, by placing the grommets over the pins and pushing them downward.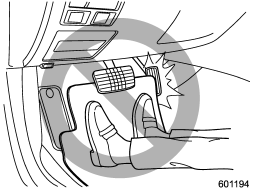 CAUTION
Make sure the driver's floor mat is placed back in its proper location and correctly secured on its retaining pin. Also, do not use more than one floor mat. If the floor mat slips forward and interferes with the movement of the pedals during driving, it could cause an accident.
See also:
Tire pressure monitoring system (TPMS) (if equipped)
The tire pressure monitoring system provides the driver with a warning message by sending a signal from a sensor that is installed in each wheel when tire pressure is severely low. The tire pre ...
Fuel octane rating
This octane rating is the average of the Research Octane and Motor Octane numbers and is commonly referred to as the Anti Knock Index (AKI). Using a gasoline with a lower octane rating can cause pers ...
Warranties for U.S.A.
All SUBARU vehicles distributed by Subaru of America, Inc. and sold at retail by an authorized SUBARU dealer in the United States come with the following warranties: - SUBARU Limited Warranty ...