Expectant mothers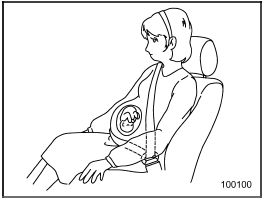 Expectant mothers
Expectant mothers also need to use the seatbelts. They should consult their doctor for specific recommendations. The lap belt should be worn securely and as low as possible over the hips, not over the waist.
See also:
Replacing the air cleaner element
Replace the air cleaner element according to the maintenance schedule in the "Warranty and Maintenance Booklet". Under extremely dusty conditions, replace it more frequently. It is recommended tha ...
Active head restraint (if equipped)
Active head restraint (if equipped) The front seats of your vehicle are equipped with active head restraints. They automatically tilt forward slightly in the event the vehicle is struck from the rear ...
To arm the system using remote transmitter
1. Close all windows. 2. Remove the key from the ignition switch. 3. Open the doors and get out of the vehicle. 4. Make sure that the engine hood (and the trunk lid on the 4-door) are locked. 5. C ...