Expectant mothers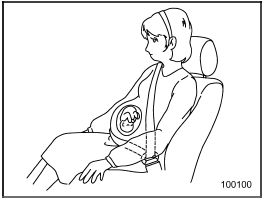 Expectant mothers
Expectant mothers also need to use the seatbelts. They should consult their doctor for specific recommendations. The lap belt should be worn securely and as low as possible over the hips, not over the waist.
See also:
When checking or servicing in the engine compartment while the engine is running
A running engine can be dangerous. Keep your fingers, hands, clothing, hair and tools away from the cooling fan, belts and any other moving engine parts. Removing rings, watches and ties is advis ...
Door interlock switch
1) Door interlock switch Although the map light switches are in the OFF position (manually off), the map lights can be set to illuminate automatically in conjunction with a door opening, etc. b ...
2.0-L DOHC Turbo engine
A newly developed DOHC cylinder head is used in this engine. The intake port and the combustion chamber have been redesigned to reduce residual gasses, thus raising combustion efficiency. By usi ...