Expectant mothers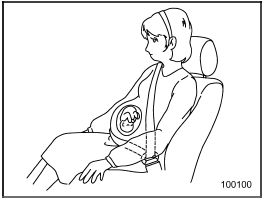 Expectant mothers
Expectant mothers also need to use the seatbelts. They should consult their doctor for specific recommendations. The lap belt should be worn securely and as low as possible over the hips, not over the waist.
See also:
Compass calibration
1. If a "C" is displayed in the compass window, the compass needs to be calibrated. 2. Drive the vehicle in a circle at 5 mph (8 km/h) or less until the display reads a direction. 3. You can also ...
Cooling fan, hose and connections
Your vehicle employs an electric cooling fan which is thermostatically controlled to operate when the engine coolant reaches a specific temperature. If the radiator cooling fan does not operate eve ...
Flat tires
If you have a flat tire while driving, never brake suddenly; keep driving straight ahead while gradually reducing speed. Then slowly pull off the road to a safe place. ...