Expectant mothers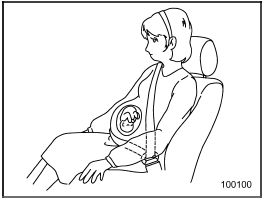 Expectant mothers
Expectant mothers also need to use the seatbelts. They should consult their doctor for specific recommendations. The lap belt should be worn securely and as low as possible over the hips, not over the waist.
See also:
ECO gauge
1) U.S.-spec. models 2) Except U.S.-spec. models The ECO gauge shows the difference between the average rate of fuel consumption and the current rate of fuel consumption. Using the average rate ...
If the light illuminates constantly
If the light illuminates constantly while driving or does not turn off after the engine starts, an emission control system malfunction has been detected. You should have your vehicle checked by an ...
Synthetic leather upholstery
The synthetic leather material used on the SUBARU may be cleaned using mild soap or detergent and water, after first vacuuming or brushing away loose dirt. Allow the soap to soak in for a few minu ...