Gross Axle Weight (GAW) and Gross Axle Weight Rating (GAWR)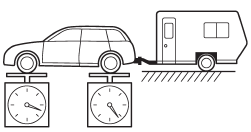 Gross Axle Weight
The total weight applied to each axle (GAW) must never exceed the Gross Axle Weight Rating (GAWR). The front and rear GAWs can be adjusted by relocating passengers and luggage inside the vehicle. The front and rear GAWR are also shown on the certification label.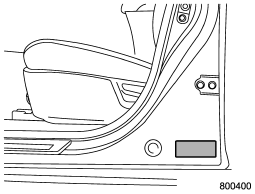 Certification label
To check both GVWR and GAWR and to confirm that the total weight and weight distribution are within safe driving limits, you should have your vehicle and trailer weighed at a commercial weighing station. Be sure that all cargo is firmly secured to prevent a change in weight distribution while driving.
See also:
Unfastening the rear center seatbelt
Push the release button of the center seatbelt buckle (on the left-hand side) to unfasten the seatbelt. 1. Insert a key or other hard pointed object into the slot in the connector (buckle) ...
Periodic inspections
To keep your vehicle in the best condition at all times, always have the recommended maintenance services listed in the maintenance schedule in the "Warranty and Maintenance Booklet" performed at ...
Maximum allowable speeds
The following tables show the maximum speeds that are possible with each different gear. Never exceed the speed limit listed in the following table for each gear position except for brief acceleratio ...