Gross Axle Weight (GAW) and Gross Axle Weight Rating (GAWR)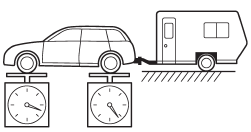 Gross Axle Weight
The total weight applied to each axle (GAW) must never exceed the Gross Axle Weight Rating (GAWR). The front and rear GAWs can be adjusted by relocating passengers and luggage inside the vehicle. The front and rear GAWR are also shown on the certification label.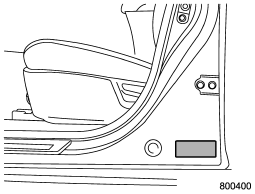 Certification label
To check both GVWR and GAWR and to confirm that the total weight and weight distribution are within safe driving limits, you should have your vehicle and trailer weighed at a commercial weighing station. Be sure that all cargo is firmly secured to prevent a change in weight distribution while driving.
See also:
When checking or servicing in the engine compartment (non-turbo models)
- Do not contact the belt cover while checking the components in the engine compartment. Doing so may cause your hand to slip off the belt cover and result in an unexpected injury. - D ...
Construction
The generic name of each cord material used in the plies (both sidewall and tread area) of this tire. For example, "PLIES: TREAD 2 STEEL + 2 POLYESTER SIDEWALL 2 POLYESTER" ...
Safety & Reliability
In crash tests from the Insurance Institute for Highway Safety, the Forester earned the top score, Good, in front and side impacts. The SUV was awarded an IIHS Top Safety Pick designation. Because ...