Gross Axle Weight (GAW) and Gross Axle Weight Rating (GAWR)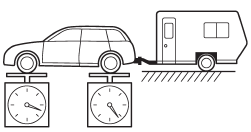 Gross Axle Weight
The total weight applied to each axle (GAW) must never exceed the Gross Axle Weight Rating (GAWR). The front and rear GAWs can be adjusted by relocating passengers and luggage inside the vehicle. The front and rear GAWR are also shown on the certification label.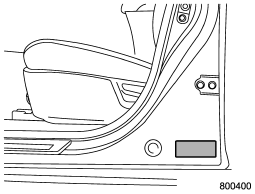 Certification label
To check both GVWR and GAWR and to confirm that the total weight and weight distribution are within safe driving limits, you should have your vehicle and trailer weighed at a commercial weighing station. Be sure that all cargo is firmly secured to prevent a change in weight distribution while driving.
See also:
Maintenance tools
Your vehicle is equipped with the following maintenance tools. • Jack • Jack handle • Screwdriver • Towing hook (eye bolt) • Wheel nut wrench • Hex-head wrench (only models with moonroof) ...
In case a problem occurs
If you cannot activate a device using the corresponding HomeLink® button after programming, contact HomeLink® at www.homelink.com or call 1-800-355- 3515 for assistance. ...
Construction type
Applicable construction of this tire. For example, "TUBELESS STEEL BELTED RADIAL" ...