Gross Axle Weight (GAW) and Gross Axle Weight Rating (GAWR)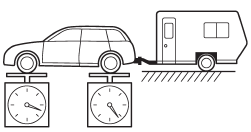 Gross Axle Weight
The total weight applied to each axle (GAW) must never exceed the Gross Axle Weight Rating (GAWR). The front and rear GAWs can be adjusted by relocating passengers and luggage inside the vehicle. The front and rear GAWR are also shown on the certification label.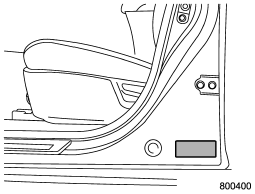 Certification label
To check both GVWR and GAWR and to confirm that the total weight and weight distribution are within safe driving limits, you should have your vehicle and trailer weighed at a commercial weighing station. Be sure that all cargo is firmly secured to prevent a change in weight distribution while driving.
See also:
Driving when tired or sleepy
WARNING When you are tired or sleepy, your reaction will be delayed and your perception, judgment and attentiveness will be impaired. If you drive when tired or sleepy, your, your passengers' and ...
Tire chains
CAUTION Tire chains cannot be used on any tires for your Legacy and Outback because of lack of clearance between the tires and vehicle body. ...
Replacing the battery
- Do not let dust, oil or water get on or in the transmitter when replacing the battery. - Be careful not to damage the printed circuit board in the transmitter when replacing the battery ...