Gross Axle Weight (GAW) and Gross Axle Weight Rating (GAWR)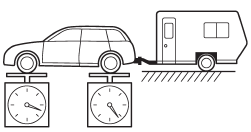 Gross Axle Weight
The total weight applied to each axle (GAW) must never exceed the Gross Axle Weight Rating (GAWR). The front and rear GAWs can be adjusted by relocating passengers and luggage inside the vehicle. The front and rear GAWR are also shown on the certification label.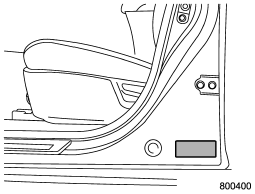 Certification label
To check both GVWR and GAWR and to confirm that the total weight and weight distribution are within safe driving limits, you should have your vehicle and trailer weighed at a commercial weighing station. Be sure that all cargo is firmly secured to prevent a change in weight distribution while driving.
See also:
Brake booster
The brake booster uses engine manifold vacuum to assist braking force. Do not turn off the engine while driving because that will turn off the brake booster, resulting in poor braking power. ...
Driving with a trailer
● You should allow for considerably more stopping distance when towing a trailer. Avoid sudden braking because it may result in skidding or jackknifing and loss of control. ● Avoid ab ...
System servicing
WARNING ● When discarding a seatbelt retractor assembly or scrapping the entire vehicle damaged by a collision, consult your SUBARU dealer. ● Tampering with or disconnecting the system ...