Help line
The help line (distance marker and vehicle width line) is a guide to help you realize the actual distance from the screen.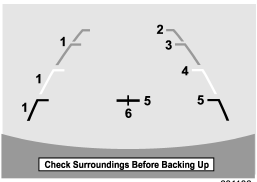 Help lines displayed on the navigation monitor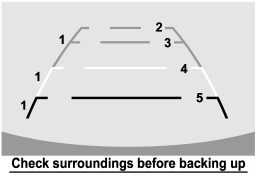 Help lines displayed on the inside mirror
1) Vehicle width line (oblique vertical line) 2) Approx. 10 feet (3 m) from the bumper (green horizontal line) 3) Approx. 6.5 feet (2 m) from the bumper (green horizontal line) 4) Approx. 3 feet (1 m) from the bumper (yellow horizontal line) 5) Approx. 1.5 feet (0.5 m) from the bumper (red horizontal line) 6) Vehicle centerline
When the shift lever or select lever is set to position "R", the monitor screen displays the help lines together with the rear view image.
CAUTION
● When moving backward, always check the back with your eyes without relying on the help lines.
● The actual position may be different from the indication of the help lines.
● Differences may occur due to number of passengers or loaded cargo.
● When the vehicle is on a slope or when the vehicle is inclined against the road, the indication is different from the actual position.
See also:
Shock sensors (dealer option)
The shock sensors trigger the alarm system when they sense impacts applied to the vehicle and when any of their electric wires are cut. The alarm system causes the horn to sound and the turn signal li ...
Setting guidance volume
To set the guidance volume, perform the following procedure. 1. Select the "SETUP" menu. 2. Select the "SYSTEM SETUP" menu. 3. Select "GUIDANCE VOL" by operating the "TUNE/TRACK/CH" dial. 4. Set t ...
Air conditioner button
The air conditioner operates only when the engine is running. Press the air conditioner button while the fan is in operation to turn on the air conditioner. The indicator light will illuminate. ...