Loading all the magazine (full disc loading mode)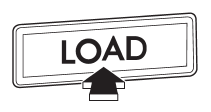 1. If you continue to press the "LOAD" button for more than 1.5 seconds, the player will produce beep sound and will enter the full disc loading mode.
2. When the disc number indicator flashes and "ALL LOAD" indicator illuminates, insert a disc within 15 seconds. If a disc is successfully loaded during this period, the disc number indicator will stop blinking and will steadily light.
3. When the loading of a disc is complete, the next idle disc number indicator will blink. Then repeat step 2.
4. When the magazine is filled with discs by repeating steps 2 and 3, the player will start playback of the discs, beginning with the one inserted first.
If you fail to insert any disc during each 15 seconds interval, the full disc loading mode will be canceled, and the player will start playback of the disc inserted first.
See also:
Using your Owner's Manual
Before you operate your vehicle, carefully read this manual. To protect yourself and extend the service life of your vehicle, follow the instructions in this manual. Failure to observe these in ...
Determining compatibility of tire and vehicle load capacities
The sum of four tires' maximum load ratings must exceed the maximum loaded vehicle weight ("GVWR"). In addition, sum of the maximum load ratings of two front tires and of two rear tires must ...
Recommended grade and viscosity
Each oil manufacturer has its own base oils and additives. Never use different brands together. For details, refer to "Manual transmission, front differential and rear differential gear oil". ...