Loading all the magazine (full disc loading mode)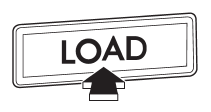 1. If you continue to press the "LOAD" button for more than 1.5 seconds, the player will produce beep sound and will enter the full disc loading mode.
2. When the disc number indicator flashes and "ALL LOAD" indicator illuminates, insert a disc within 15 seconds. If a disc is successfully loaded during this period, the disc number indicator will stop blinking and will steadily light.
3. When the loading of a disc is complete, the next idle disc number indicator will blink. Then repeat step 2.
4. When the magazine is filled with discs by repeating steps 2 and 3, the player will start playback of the discs, beginning with the one inserted first.
If you fail to insert any disc during each 15 seconds interval, the full disc loading mode will be canceled, and the player will start playback of the disc inserted first.
See also:
Heating
To direct warm air toward the floor: 1. Set the air inlet selection button to the OFF position. 2. Press the "" button. 3. Set the temperature control dial to the most comfortable level. 4. Set th ...
Operation
If the driver and/or front passenger have/ has not yet fastened the seatbelt(s) when the ignition switch is turned to the "ON" position, the seatbelt warning light(s) will flash for 6 seconds, ...
Maximum allowable speeds
The following table shows the maximum speeds that are possible with each different gear. The tachometer's needle will enter the red area if these speeds are exceeded. With the exception of cases wher ...