Loading all the magazine (full disc loading mode)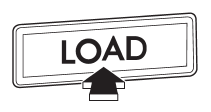 1. If you continue to press the "LOAD" button for more than 1.5 seconds, the player will produce beep sound and will enter the full disc loading mode.
2. When the disc number indicator flashes and "ALL LOAD" indicator illuminates, insert a disc within 15 seconds. If a disc is successfully loaded during this period, the disc number indicator will stop blinking and will steadily light.
3. When the loading of a disc is complete, the next idle disc number indicator will blink. Then repeat step 2.
4. When the magazine is filled with discs by repeating steps 2 and 3, the player will start playback of the discs, beginning with the one inserted first.
If you fail to insert any disc during each 15 seconds interval, the full disc loading mode will be canceled, and the player will start playback of the disc inserted first.
See also:
Checking the clutch function
Check the clutch engagement and disengagement. 1. With the engine idling, check that there are no abnormal noises when the clutch pedal is depressed, and that shifting into 1st or reverse feels smoot ...
Trailer hitches
WARNING Never drill the frame or under-body of your vehicle to install a commercial trailer hitch. If you do, dangerous exhaust gas, water or mud may enter the passenger compartment through the d ...
Driving in foreign countries
When planning to use your vehicle in another country: • Confirm the availability of the correct fuel. Refer to "Fuel requirements". • Comply with all regulations and requirements of each country. ...