Loading all the magazine (full disc loading mode)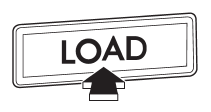 1. If you continue to press the "LOAD" button for more than 1.5 seconds, the player will produce beep sound and will enter the full disc loading mode.
2. When the disc number indicator flashes and "ALL LOAD" indicator illuminates, insert a disc within 15 seconds. If a disc is successfully loaded during this period, the disc number indicator will stop blinking and will steadily light.
3. When the loading of a disc is complete, the next idle disc number indicator will blink. Then repeat step 2.
4. When the magazine is filled with discs by repeating steps 2 and 3, the player will start playback of the discs, beginning with the one inserted first.
If you fail to insert any disc during each 15 seconds interval, the full disc loading mode will be canceled, and the player will start playback of the disc inserted first.
See also:
Vehicle capacity weight
The load capacity of your vehicle is determined by weight, not by available cargo space. The maximum load you can carry in your vehicle is shown on the vehicle placard attached to the driver's sid ...
Engine coolant
The indicated coolant quantity is only a guideline. The necessary quantity for replacement may differ slightly depending on the temperature and other factors. For more details about maintenance ...
Cooling fan, hose and connections
Your vehicle employs an electric cooling fan which is thermostatically controlled to operate when the engine coolant reaches a specific temperature. If the radiator cooling fan does not operate eve ...