Loading all the magazine (full disc loading mode)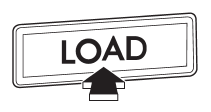 1. If you continue to press the "LOAD" button for more than 1.5 seconds, the player will produce beep sound and will enter the full disc loading mode.
2. When the disc number indicator flashes and "ALL LOAD" indicator illuminates, insert a disc within 15 seconds. If a disc is successfully loaded during this period, the disc number indicator will stop blinking and will steadily light.
3. When the loading of a disc is complete, the next idle disc number indicator will blink. Then repeat step 2.
4. When the magazine is filled with discs by repeating steps 2 and 3, the player will start playback of the discs, beginning with the one inserted first.
If you fail to insert any disc during each 15 seconds interval, the full disc loading mode will be canceled, and the player will start playback of the disc inserted first.
See also:
Pre-heating or pre-cooling the interior of the vehicle
Before exiting the vehicle, set the temperature controls to the desired setting and operation. After the system starts the vehicle, the heater or air-conditioning will activate and heat or cool the in ...
Low beam light bulbs
1. Pull off the fender lining. For details, refer to "Pulling off the fender lining" F11- 7. 2. Remove the bulb cover, by turning it counterclockwise. 3. Disconnect the electrical connector. ...
Hazard warning flasher
The hazard warning flasher is used to warn other drivers when you have to park your vehicle under emergency conditions. The hazard warning flasher works with the ignition switch in any position. ...