Loading all the magazine (full disc loading mode)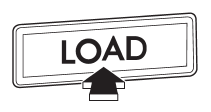 1. If you continue to press the "LOAD" button for more than 1.5 seconds, the player will produce beep sound and will enter the full disc loading mode.
2. When the disc number indicator flashes and "ALL LOAD" indicator illuminates, insert a disc within 15 seconds. If a disc is successfully loaded during this period, the disc number indicator will stop blinking and will steadily light.
3. When the loading of a disc is complete, the next idle disc number indicator will blink. Then repeat step 2.
4. When the magazine is filled with discs by repeating steps 2 and 3, the player will start playback of the discs, beginning with the one inserted first.
If you fail to insert any disc during each 15 seconds interval, the full disc loading mode will be canceled, and the player will start playback of the disc inserted first.
See also:
Programming other devices
To program other devices such as door locks, home lighting and security systems, contact HomeLink® at www.homelink.com or call 1-800-355-3515. ...
New vehicle break-in driving – the first 1,000 miles (1,600 km)
The performance and long life of your vehicle are dependent on how you handle and care for your vehicle while it is new. Follow these instructions during the first 1,000 miles (1,600 km): - D ...
2008 Subaru Impreza review
The Subaru Impreza WRX is the rare type of car that combines year-round drivability, day-to-day livability and reasonable comfort with versatility — and is, all the while, a blast to drive. Along ...