Components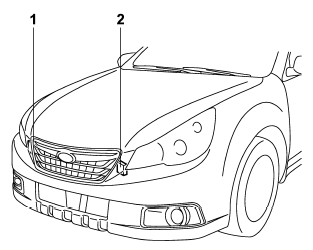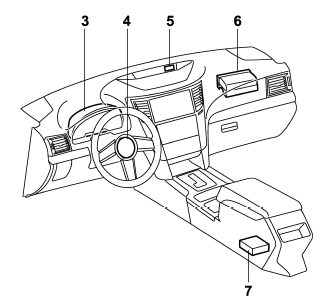 1) Front sub sensor (right-hand side) 2) Front sub sensor (left-hand side) 3) SRS airbag system warning light 4) Frontal airbag module (driver's side) 5) Front passenger's frontal airbag ON and OFF indicator 6) Frontal airbag module (front passenger's side) 7) Airbag control module (including impact sensor [all models] and rollover sensor [Outback])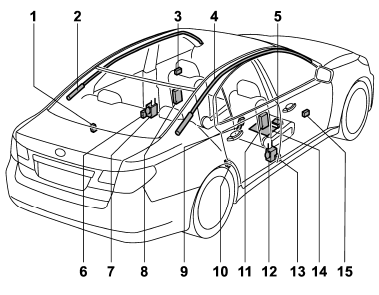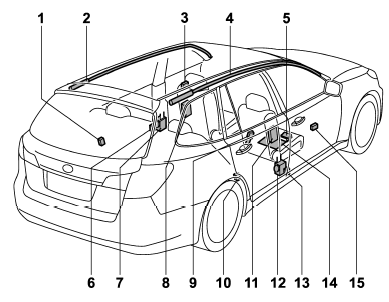 1) Rear wheel house impact sensor (lefthand side) 2) Curtain airbag module (left-hand side) 3) Front door impact sensor (left-hand side) 4) Curtain airbag module (right-hand side) 5) Front passenger's occupant detection control module 6) Center pillar impact sensor (left-hand side) 7) Seatbelt pretensioner (left-hand side) 8) Side airbag module (left-hand side) 9) Seatbelt buckle switch (right-hand side) 10) Rear wheel house impact sensor (righthand side) 11) Side airbag module (right-hand side) 12) Seatbelt pretensioner (right-hand side) 13) Center pillar impact sensor (right-hand side) 14) Front passenger's occupant detection system weight sensor 15) Front door impact sensor (right-hand side)
See also:
Recommended clutch fluid
CAUTION Never use different brands of clutch fluid together. Also, avoid mixing DOT 3 and DOT 4 brake fluids even if they are the same brand. ...
Washer
Washer To wash the windshield, push the washer button at the end of the wiper control lever. The washer fluid sprays until you release the washer button. The wipers operate while you push ...
Symmetrical All-Wheel Drive A Key To Brand Identity
Subaru offers three different Symmetrical All-Wheel Drive systems in the 2010 Subaru Legacy line, each tailored to the engine and type of transmission. In Legacy 2.5i models equipped with the 6-sp ...