Components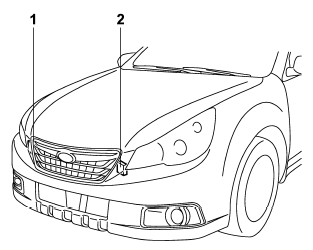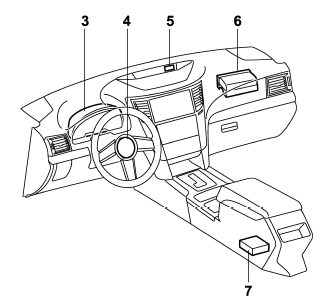 1) Front sub sensor (right-hand side) 2) Front sub sensor (left-hand side) 3) SRS airbag system warning light 4) Frontal airbag module (driver's side) 5) Front passenger's frontal airbag ON and OFF indicator 6) Frontal airbag module (front passenger's side) 7) Airbag control module (including impact sensor [all models] and rollover sensor [Outback])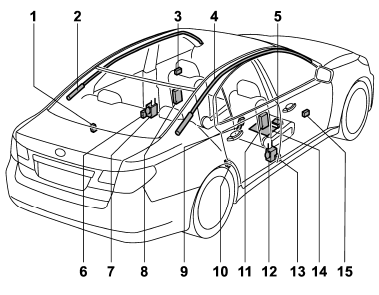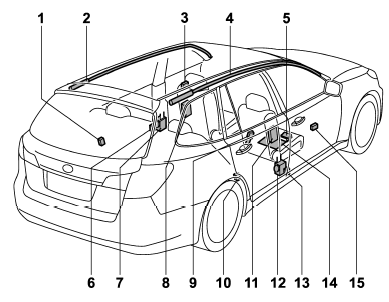 1) Rear wheel house impact sensor (lefthand side) 2) Curtain airbag module (left-hand side) 3) Front door impact sensor (left-hand side) 4) Curtain airbag module (right-hand side) 5) Front passenger's occupant detection control module 6) Center pillar impact sensor (left-hand side) 7) Seatbelt pretensioner (left-hand side) 8) Side airbag module (left-hand side) 9) Seatbelt buckle switch (right-hand side) 10) Rear wheel house impact sensor (righthand side) 11) Side airbag module (right-hand side) 12) Seatbelt pretensioner (right-hand side) 13) Center pillar impact sensor (right-hand side) 14) Front passenger's occupant detection system weight sensor 15) Front door impact sensor (right-hand side)
See also:
Tire rotation direction mark
Example of tire rotation direction mark 1) Front If the tire has the rotation direction specification, the tire rotation direction mark is placed on its sidewall. When you install a tire that has t ...
Media format
Bluetooth® audio devices cannot be connected if they are not compatible with the following Bluetooth® profiles. • A2DP (Advanced Audio Distribution Profile) • AVRCP (Audio/Video Remote Control Profi ...
Child safety locks
Each rear door has a child safety lock that prevents the door from being opened even if the inside door handle is pulled. When the child safety lock lever is in the lock position, the door ca ...