Components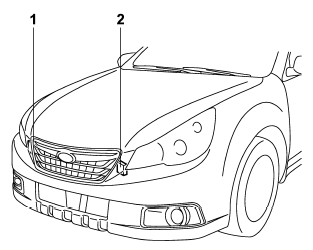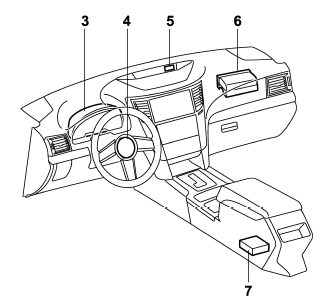 1) Front sub sensor (right-hand side) 2) Front sub sensor (left-hand side) 3) SRS airbag system warning light 4) Frontal airbag module (driver's side) 5) Front passenger's frontal airbag ON and OFF indicator 6) Frontal airbag module (front passenger's side) 7) Airbag control module (including impact sensor [all models] and rollover sensor [Outback])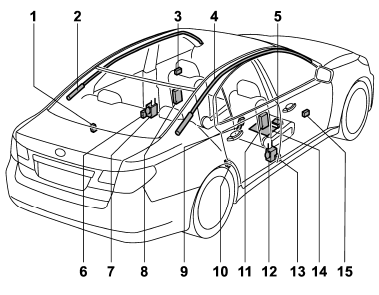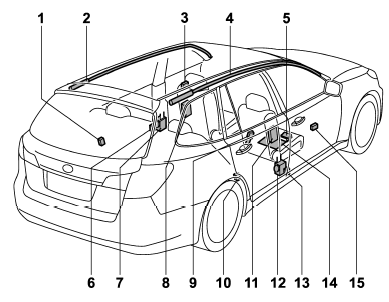 1) Rear wheel house impact sensor (lefthand side) 2) Curtain airbag module (left-hand side) 3) Front door impact sensor (left-hand side) 4) Curtain airbag module (right-hand side) 5) Front passenger's occupant detection control module 6) Center pillar impact sensor (left-hand side) 7) Seatbelt pretensioner (left-hand side) 8) Side airbag module (left-hand side) 9) Seatbelt buckle switch (right-hand side) 10) Rear wheel house impact sensor (righthand side) 11) Side airbag module (right-hand side) 12) Seatbelt pretensioner (right-hand side) 13) Center pillar impact sensor (right-hand side) 14) Front passenger's occupant detection system weight sensor 15) Front door impact sensor (right-hand side)
See also:
High beam light bulbs
1. Remove the air intake duct (right-hand side). For the method to remove the air intake duct, refer to "Removing air intake duct" F11-7. Left-hand side 2. Use a screwdriver to remove the secure ...
Engine exhaust gas (carbon monoxide)
WARNING ● Never inhale engine exhaust gas. Engine exhaust gas contains carbon monoxide, a colorless and odorless gas which is dangerous, or even lethal, if inhaled. ● Always properly m ...
Corrosion protection
Your SUBARU has been designed and built to resist corrosion. Special materials and protective finishes have been used on most parts of the vehicle to help maintain fine appearance, strength, and relia ...