Components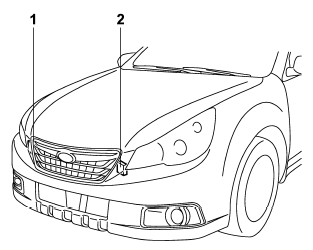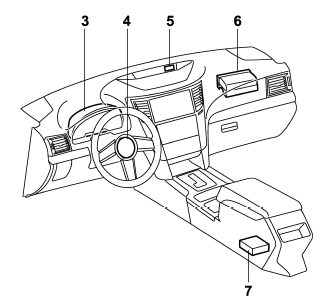 1) Front sub sensor (right-hand side) 2) Front sub sensor (left-hand side) 3) SRS airbag system warning light 4) Frontal airbag module (driver's side) 5) Front passenger's frontal airbag ON and OFF indicator 6) Frontal airbag module (front passenger's side) 7) Airbag control module (including impact sensor [all models] and rollover sensor [Outback])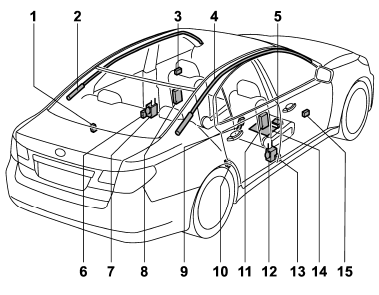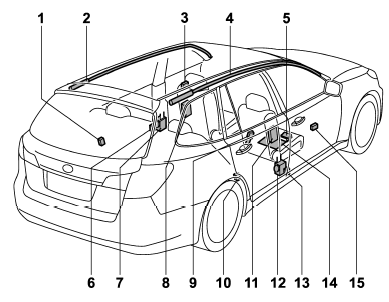 1) Rear wheel house impact sensor (lefthand side) 2) Curtain airbag module (left-hand side) 3) Front door impact sensor (left-hand side) 4) Curtain airbag module (right-hand side) 5) Front passenger's occupant detection control module 6) Center pillar impact sensor (left-hand side) 7) Seatbelt pretensioner (left-hand side) 8) Side airbag module (left-hand side) 9) Seatbelt buckle switch (right-hand side) 10) Rear wheel house impact sensor (righthand side) 11) Side airbag module (right-hand side) 12) Seatbelt pretensioner (right-hand side) 13) Center pillar impact sensor (right-hand side) 14) Front passenger's occupant detection system weight sensor 15) Front door impact sensor (right-hand side)
See also:
Light control and wiper control levers/switches
1) Windshield wiper 2) Mist 3) Windshield washer 4) Rear window wiper and washer switch 5) Wiper intermittent time control switch 6) Wiper control lever 7) Light control switch 8) Fog light s ...
Rear gate – if the rear gate cannot be opened
In the event that you cannot open the rear gate by operating the power door locking switches or the remote keyless entry system, you can open it from inside the cargo area. 1. Remove the ac ...
Registering speed dial
1. After registering phonebook data, select the "SPEED DIAL" menu. 2. Press the preset button (from to ) in which you want to register the phone number. NOTE If the number to be used is al ...