How to insert a CD(s) (type B)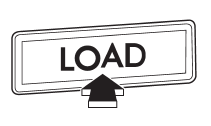 1. Briefly press the "LOAD" button. If the magazine in the player has an idle position where you can insert a disc, the disc number indicator associated with the idle position will blink.
If no indicator blinks, it means that there is no idle position in the magazine.
2. When the "LOAD" indicator illuminates, insert the disc. Once you have inserted the disc, the "LOAD" indicator will turn off and the "LOADING" indicator will illuminate. The disc will then be automatically drawn in, the player will begin to play back the first track of the disc, the "LOADING" indicator will turn off and the "READING" indicator will illuminate.
● To insert more discs in succession, repeat steps 1 and 2. The magazine will be loaded with discs in the ascending order of position number.
● If you do not insert any disc in 15 seconds after you have pressed the "LOAD" button, the player will return to the original mode that was selected before the "LOAD" button was pressed.
● The disc indicator steadily lights up if a disc is already inserted in the corresponding position of the magazine.
● While the player is in the loading mode, if you press "FM", "AM" or "SAT" button, the player will enter the standby mode. Press the "CD/AUX" button to start playback.
See also:
Cleaning ventilation grille
Cleaning ventilation grille Always keep the front ventilation inlet grille free of snow, leaves, or other obstructions to ensure efficient heating and defrosting. Since the condenser is located in f ...
Cleaning the interior
Use a soft, damp cloth to clean the climate control panel, audio equipment, instrument panel, center console, combination meter panel, and switches. (Do not use organic solvents.) ...
Locking and unlocking from the outside
NOTE If you unlock the driver's door with a key and open the door while the alarm system is armed, the alarm system is triggered and the vehicle's horn sounds. In this case, perform any of the follow ...