How to insert a CD(s) (type B)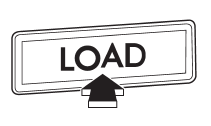 1. Briefly press the "LOAD" button. If the magazine in the player has an idle position where you can insert a disc, the disc number indicator associated with the idle position will blink.
If no indicator blinks, it means that there is no idle position in the magazine.
2. When the "LOAD" indicator illuminates, insert the disc. Once you have inserted the disc, the "LOAD" indicator will turn off and the "LOADING" indicator will illuminate. The disc will then be automatically drawn in, the player will begin to play back the first track of the disc, the "LOADING" indicator will turn off and the "READING" indicator will illuminate.
● To insert more discs in succession, repeat steps 1 and 2. The magazine will be loaded with discs in the ascending order of position number.
● If you do not insert any disc in 15 seconds after you have pressed the "LOAD" button, the player will return to the original mode that was selected before the "LOAD" button was pressed.
● The disc indicator steadily lights up if a disc is already inserted in the corresponding position of the magazine.
● While the player is in the loading mode, if you press "FM", "AM" or "SAT" button, the player will enter the standby mode. Press the "CD/AUX" button to start playback.
See also:
Fan speed control dial
Fan speed control dial The fan operates only with the ignition switch in the ON position. The fan speed control dial is used to select the AUTO (automatic control) mode or to select the des ...
Inside mirror
Inside mirror The inside mirror has a day and night position. Pull the tab at the bottom of the mirror toward you for the night position. Push it away for the day position. The night position reduce ...
Using a warm water washer
• Keep a good distance of 12 in (30 cm) or more between the washer nozzle and the vehicle. • Do not wash the same area continuously. • If a stain will not come out easily, wash by hand. Some warm wa ...