REV indicator light and buzzer (STI)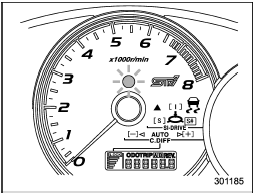 The REV alarm system issues a warning using the REV indicator light (and a buzzer if additionally selected) when the engine speed reaches a level previously set using the trip knob.
If you press the trip knob, the odometer/ trip meter will show the engine speed that has already been set.
NOTE
Even if the REV alarm system is not set, the REV indicator light will illuminate whenever the engine speed enters the tachometer's red zone.