Rear window wiper blade rubber (Outback)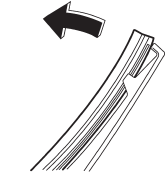 1. Pull out the end of the blade rubber assembly to unlock it from the plastic support.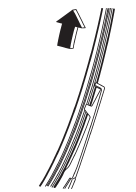 2. Pull the blade rubber assembly out of the plastic support.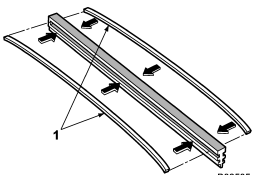 1) Metal spines
3. If the new blade rubber is not provided with two metal spines, remove the metal spines from the old blade rubber and install them in the new blade rubber.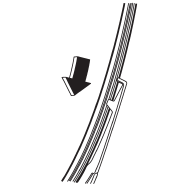 4. Align the claws of the plastic support with the grooves in the blade rubber assembly, then slide the blade rubber assembly into place.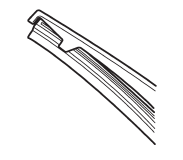 Securely retain both ends of the rubber with the stoppers on the plastic support ends. If the rubber is not retained properly, the wiper may scratch the rear window glass.
5. Install the wiper blade assembly to the wiper arm. Make sure that it locks in place.
6. Hold the wiper arm by hand and slowly lower it in position.
See also:
2011 Subaru Impreza WRX STi By Steven Cole Smith
Lost in the flashier news of the resurgence of Ford, General Motors and Chrysler -- and the fast-rising profile of Hyundai and Kia -- is the story of Subaru, the small Japanese company which has l ...
The Inside
The cabin boasts more conventional lines and adult-friendly room, with a number of welcome changes. The doors now have window frames, yielding a more substantial thunk when you shut them. The back ...
Power door locking switches
1) Lock 2) Unlock All doors and the rear gate (Outback) can be locked and unlocked by the power door locking switches located at the driver's side and the front passenger's side doors. To lock ...