Engine hood
To open the hood:
1. If the wiper blades are lifted off the windshield, return them to their original positions.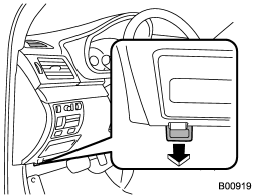 2. Pull the hood release knob under the instrument panel.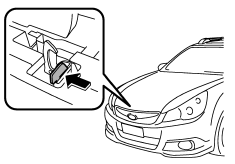 3. Release the secondary hood release by moving the lever between the front grille and the hood toward the left.
4. Lift up the hood.
To close the hood:
1. Lower the hood to a height of approximately 5.9 in (15 cm) above its closed position and then let it drop.
2. After closing the hood, be sure the hood is securely locked.
If this does not close the hood, release it from a slightly higher position. Do not push the hood forcibly to close it. It could deform the metal.
WARNING
Always check that the hood is properly locked before you start driving. If it is not, it might fly open while the vehicle is moving and block your view, which may cause an accident and serious bodily injury.
See also:
Most common causes of corrosion
The most common causes of corrosion are: 1. The accumulation of moisture retaining dirt and debris in body panel sections, cavities, and other areas. 2. Damage to paint and other protective coatings ...
Drugs and driving
There are some drugs (over the counter and prescription) that can delay your reaction time and impair your perception, judgment and attentiveness. If you drive after taking them, it may increase yo ...
If no steam is coming from the engine compartment
NOTE For details about how to check the coolant level or how to add coolant, refer to "Engine coolant". 1. Keep the engine running at idling speed. 2. Open the hood to ventilate the engine ...