Towing
WARNING
Never tow AWD vehicles (including AT, MT and CVT) with the front wheels raised off the ground while the rear wheels are on the ground, or with the rear wheels raised off the ground while the front wheels are on the ground. This will cause the vehicle to spin away due to the operation or deterioration of the center differential.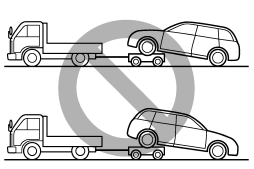 If towing is necessary, it is best done by your SUBARU dealer or a commercial towing service. Observe the following procedures for safety.
See also:
Seatbelt warning light and chime
NOTE If your seatbelt warning device does not operate as described in the following, it may be out of order. Have the device inspected and, if necessary, repaired by the nearest SUBARU dealer. Y ...
Drive belts
It is unnecessary to check the deflection of the drive belt periodically because your engine is equipped with an automatic belt tension adjuster. However, replacement of the belt should be done ac ...
Ashtray (if equipped)
CAUTION ● Do not use ashtrays as waste receptacles or leave a lighted cigarette in an ashtray. This could cause a fire. ● Always extinguish matches and cigarettes before putting them i ...