Using the cover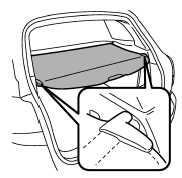 To extend the cover, pull the end of the cover out of the housing, then insert its hooks into the catches as shown. To rewind it, unhook it from the catches and it will rewind automatically. You should hold on to the cover and guide it back into the cover housing while it is rewinding.
WARNING
Do not place anything on the extended cover. Putting excessive weight on the extended cover can break it and an object on the cover could tumble forward in the event of a sudden stop or collision. This could cause serious injury.
CAUTION
● Be careful not to scratch the rear gate stays while extending and rewinding the cover. Scratches on the stays could cause leakage of gas from the stays, which may result in their inability to hold the rear gate open.
● When reclining the rear seatback, move the front cover backward so that the cover is not damaged.
See also:
2.5 L turbo models
1) Power steering fluid reservoir (page 11-27) 2) Manual transmission oil level gauge (page 11-23) 3) Clutch fluid reservoir (page 11-29) 4) Brake fluid reservoir (page 11-28) 5) Fuse box (page ...
Connectable iPod® models Type C audio:
Type D audio: Do not connect an iPod® other than the previously stated models. Doing so may result in a malfunction or, depending on conditions, cause a fire. NOTE - iPod® is a reg ...
FM selection
Press the "FM" button when the radio is on to select FM1, FM2 or FM3 reception. Each brief press of the "FM" button changes the radio in the following sequence starting from the last FM radio ban ...