Wiper intermittent time control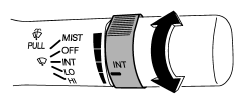 When the wiper switch is in the "INT" position, turn the dial to adjust the operating interval of the wiper. The operating interval can be adjusted in five steps from the shortest interval to the longest.
See also:
Summer tires
The factory-installed tires on your new 2.5 L turbo models are summer tires. Summer tires are high-speed capability tires best suited for highway driving under dry conditions. Summer tires are in ...
Warranties and maintenance
vehicle damage or malfunction caused by trailer towing. If you use your vehicle to tow a trailer, more frequent maintenance will be required due to the additional load. (Refer to "Maintenance sche ...
Turbo models
1. Use a screwdriver to undo the clips on the air intake duct, then remove the air intake duct. 1) Connector 2) Clip 2. Unplug the connector that is attached to the top of the air cleane ...