Illumination brightness control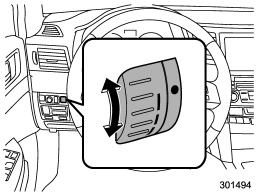 The illumination brightness of the clock display, audio, air conditioner, multi function display and meter/gauge dims under the following conditions.
● when the light switch is in the " " or " " position
● when the light switch is in the "AUTO" position and the headlights illuminate automatically
You can adjust the illumination brightness for better visibility.
To brighten, turn the control dial upward.
To darken, turn the control dial downward.
NOTE
● When the control dial is turned fully upward, the illumination brightness becomes the maximum and the automatic dimming function does not work at all.
● The brightness setting is not canceled even when the ignition switch is turned to the "LOCK" position.
See also:
Replacement of wiper blades
Grease, wax, insects, or other materials on the windshield or the wiper blade results in jerky wiper operation and streaking on the glass. If you cannot remove the streaks after operating the wind ...
Pocket (if equipped)
CAUTION Do not use the pocket as an ashtray or leave a lighted cigarette in the pocket. This could cause a fire. To use the pocket, open the lid. ...
Determining compatibility of tire and vehicle load capacities
The sum of four tires' maximum load ratings must exceed the maximum loaded vehicle weight ("GVWR"). In addition, sum of the maximum load ratings of two front tires and of two rear tires must ...