Inspection
Perform the following steps at least twice a year to check the release handle for correct operation.
1. Open the trunk lid.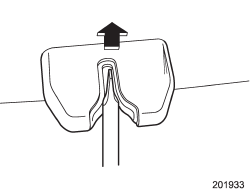 2. Use a flat-head screwdriver with a thin blade. Slide the flat-head screwdriver blade from the slit aperture of the lock assembly fully to the end until you hear a click.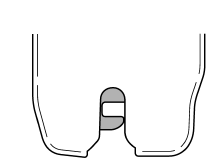 This places the latch in the locked position.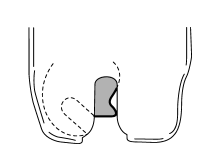 3. Move the release handle, from outside the vehicle, in the direction of the arrow to check if the latch is released.
If the latch is not released, contact your SUBARU dealer.
In that case, use the key to release the latch, then close the trunk lid.
Also, if the movement of the release handle feels restricted or not entirely smooth during operation, or the handle and/or handle base is cracked, contact your SUBARU dealer.
See also:
4-door models
1. Remove the clip from the rear trunk trim with a screwdriver. 2. Open the rear portion of the side trunk trim panel. 1) Brake/tail and rear side marker light 2) Rear turn signal light 3) Bac ...
Front passenger's SRS frontal airbag
The front passenger's SRS frontal airbag uses a dual stage inflator. The inflator operates in different ways depending on the severity of impact. The total load on the seat is monitored by the pass ...
HD RadioTM Technology (Digital AM and FM Radio) (type D audio)
HD Radio Technology is fueling the digital radio revolution in the United States and around the world. The digital technology enables broadcasters to offer new and unique FM content via HD2 ...