Internal trunk lid release handle
The internal trunk lid release handle is a device designed to open the trunk lid from inside the trunk. In the event children or adults become locked inside the trunk, the handle allows them to open the lid. The handle is located on the inside of the trunk lid.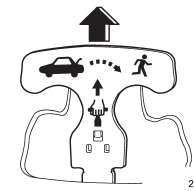 To open the trunk lid from inside the trunk, pull the yellow handle as indicated by the arrow on the handle. This operation unlocks the trunk lid. Then, push up the lid.
The handle is made of material that remains luminescent for approximately an hour in the dark trunk space after it is exposed to ambient light even for a short time.
WARNING
Never allow any child to get in the trunk and play with the release handle. If the driver starts the vehicle without knowing that a child is inside the trunk and the child opens the lid using the release handle, the child could fall out and be killed or seriously injured.
CAUTION
● Do not close the lid while gripping the release handle. The handle may be damaged.
● Do not use the handle as a hook to fasten straps or ropes to secure your cargo in the trunk. Such use may result in damage of the handle.
● Load the trunk so that cargo cannot strike the release handle. If the cargo hits the handle while the vehicle is being driven, the handle may be pulled and the trunk lid may open. That may cause cargo to fall out of the trunk, which could create a traffic safety hazard.