Battery drainage prevention function
If a door or the rear gate (Outback) is not completely closed, the interior lights will remain illuminated as a result. However, several lights are automatically turned off by the battery drainage prevention function to prevent the battery from going dead. The following interior lights are affected by this function.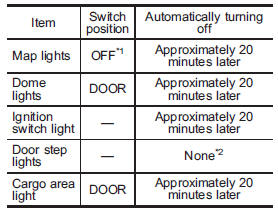 *1: The map lights can be controlled by the battery drainage prevention function only when the map light switches are in the OFF position and the door interlock switch is in the DOOR position. For the switch positions, refer to "Map light" F6-2.
*2: The door step lights are not affected by the battery drainage prevention function, so the lights do not turn off automatically. To turn off the lights, it is necessary that each door is completely closed.
The operational/non-operational setting of this function can be changed by a SUBARU dealer. Contact the nearest SUBARU dealer if you would like to change the setting.
NOTE
● The factory setting (default setting) for this function is set as "operational".
● When leaving the vehicle, please make sure that all doors and the rear gate (Outback) are completely closed.
● The battery drainage prevention function does not operate while the key is in the ignition switch.
See also:
Replacing bulbs
Bulbs may become very hot while illuminated. Before replacing bulbs, turn off the lights and wait until the bulbs cool down. Otherwise, there is a risk of sustaining a burn injury. Re ...
Safety symbol
You will find a circle with a slash through it in this manual. This symbol means"Do not", "Do not do this", or"Do not let this happen", depending upon the context. ...
Brake booster
If the brake booster does not operate as described in the following procedure, have it checked by your SUBARU dealer. 1. With the engine off, depress the brake pedal several times, applying the sam ...