Bulb chart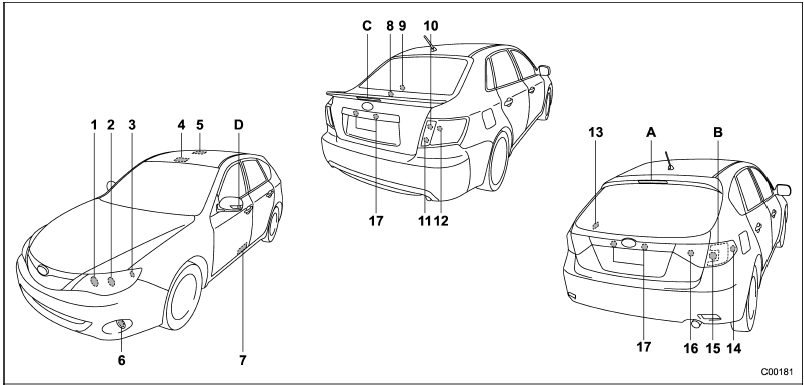 NOTE
Lights from A to D are the LED (Light Emitting Diode) type. Consult your SUBARU dealer for replacement.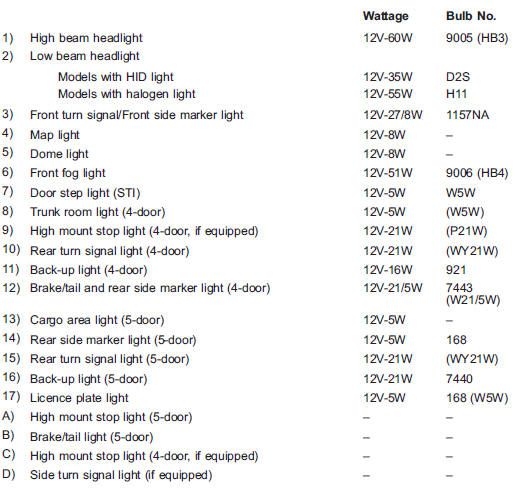 Х Bulbs may become very hot while illuminated. Before replacing bulbs, turn off the lights and wait until the bulbs cool down. Otherwise, there is a risk of sustaining a burn injury.
Х For models with HID low beam headlights, observe the following precautions. Not doing so carries the risk of an electric shock that could result in serious injury because the HID bulbs use an extremely high voltage.
Ц Do not replace any headlight bulbs (both low beam and high beam) by yourself.
Ц Do not remove/restore the headlight assemblies by yourself.
Ц Do not remove any headlightassembly components by yourself.
For replacement, contact your SUBARU dealer.

Replace any bulb only with a new bulb of the specified wattage. Using a bulb of different wattage could result in a fire.
See also:
Compass zone adjustment
Compass calibration zones 1. Refer to the УCompass calibration zonesФ map shown above to verify that the compass zone setting is correct for your geographical location. 2. Press and hold the swi ...
Driving tips
Do not drive with your foot resting on the clutch pedal and do not use the clutch to hold your vehicle at a standstill on an upgrade. Either of those actions may cause clutch damage. Do not drive wit ...
Compass calibration
1. For optimum calibration, switch off all nonessential electrical accessories (rear window defogger, heater/air conditioning system, spotlight, etc.) and ensure all doors are shut. 2. Drive ...