Ashtray (if equipped)
CAUTION
● Do not use ashtrays as waste receptacles or leave a lighted cigarette in an ashtray. This could cause a fire.
● Always extinguish matches and cigarettes before putting them into the ashtray, and then close the ashtray securely. If you keep the ashtray open, the fire of the cigarette may spread to another cigarette butt and start a fire.
● Do not put flammable material in the ashtray.
● Do not leave a lot of cigarette butts in the ashtray.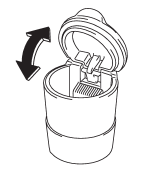 The portable ashtray can be installed in each cup holder. For the locations of the cup holders, refer to "Cup holder" F6-8. When using the ashtray, open the lid of the ashtray. When removing the ashtray from a cup holder, pull the ashtray upwards. Fully close the lid after using the ashtray to help reduce residual smoke.
NOTE
Particles of ash and tobacco will accumulate around the hinges of the ashtray's inner lid. Clean them off using a toothbrush or another narrow-ended implement.
See also:
To engage the service mode
Turn the ignition switch to the "ON" position, depress and hold the brake pedal, then press and release the "" button on the remote engine start transmitter three times. The system will pause for 1 se ...
Skip channel selection
When in the SAT mode, press the "SEEK" button "" or "" continuously to change to the channel selection mode. Pressing the "SEEK" button "" changes the channel up by 10 steps each time. Pressin ...
Temperature A, B, C
The temperature grades are A (the highest), B, and C, representing the tire's resistance to the generation of heat and its ability to dissipate heat when tested under controlled conditions o ...