Ashtray (if equipped)
CAUTION
● Do not use ashtrays as waste receptacles or leave a lighted cigarette in an ashtray. This could cause a fire.
● Always extinguish matches and cigarettes before putting them into the ashtray, and then close the ashtray securely. If you keep the ashtray open, the fire of the cigarette may spread to another cigarette butt and start a fire.
● Do not put flammable material in the ashtray.
● Do not leave a lot of cigarette butts in the ashtray.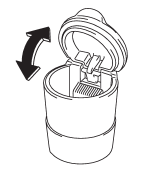 The portable ashtray can be installed in each cup holder. For the locations of the cup holders, refer to "Cup holder" F6-8. When using the ashtray, open the lid of the ashtray. When removing the ashtray from a cup holder, pull the ashtray upwards. Fully close the lid after using the ashtray to help reduce residual smoke.
NOTE
Particles of ash and tobacco will accumulate around the hinges of the ashtray's inner lid. Clean them off using a toothbrush or another narrow-ended implement.
See also:
Cooling and dehumidifying in high humidity and low temperature weather conditions
Under certain weather conditions (high relative humidity, low temperatures, etc.) a small amount of water vapor emission from the air outlets may be noticed. This condition is normal and does ...
Satellite radio operation (if equipped)
To receive satellite radio, it is necessary to install the SUBARU genuine satellite receiver (optional equipment) and to enter into a contract. For details, please contact your SUBARU dealer. ...
Warning and indicator lights
Several of the warning and indicator lights illuminate momentarily and then turn off when the ignition switch is initially turned to the "ON" position. This permits checking the operation of t ...