Type A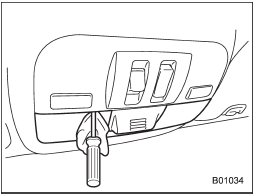 1. Remove the lens by prying the edge of the lens with a flat-head screwdriver.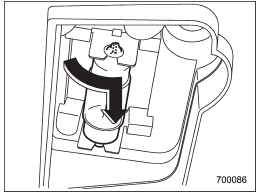 2. Turn the bulb until the flat surfaces at its ends are aligned vertically. Pull the bulb straight downward to remove it.
3. Install a new bulb.
4. Reinstall the lens.
See also:
Checking the fluid level when the fluid is cold
When the fluid level has to be checked without time to warm up the automatic transmission, check to see that the fluid level is between the lower level and upper level on the "COLD" range. If it is be ...
Safety symbol
You will find a circle with a slash through it in this manual. This symbol means "Do not", "Do not do this", or "Do not let this happen", depending upon the context. ...
Operating the HomeLink® Wireless Control System
Once programmed, the HomeLink® Wireless Control System can be used to remote-control the devices to which its buttons are programmed. To activate a device, simply press the appropriate button. The in ...