Map light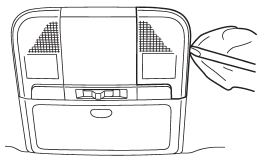 1. Remove the lens by prying the edge of the lens with a flat-head screwdriver.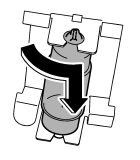 2. Turn the bulb until the flat surfaces at its ends are aligned vertically. Pull the bulb straight downward to remove it.
3. Install a new bulb.
4. Reinstall the lens.
See also:
Lubrication oil circulation in the refrigerant circuit
Operate the air conditioner compressor at a low engine speed (at idle or low driving speeds) a few minutes each month during the off-season to circulate its oil. ...
Recommended brake fluid
CAUTION Never use different brands of brake fluid together. Also, avoid mixing DOT 3 and DOT 4 brake fluids even if they are the same brand. ...
Tire rotation
Vehicles equipped with 4 non-unidirectional tires 1) Front Vehicles equipped with unidirectional tires 1) Front Tire wear varies from wheel to wheel. To maximize the life of each tire and ensu ...