Checking the fluid level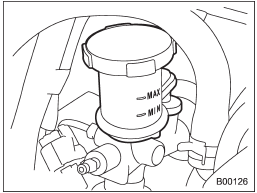 Check the fluid level on the outside of the reservoir. If the level is below "MIN" level mark, add the recommended clutch fluid to "MAX" level mark.
Use only clutch fluid from a sealed container.

Never let clutch fluid contact your eyes because clutch fluid can be harmful to your eyes. If clutch fluid gets in your eyes, immediately flush them thoroughly with clean water.
For safety, when performing this work, wearing eye protection is advisable.

• Clutch fluid absorbs moisture from the air. Any absorbed moisture can cause improper clutch operation.
• If the vehicle requires frequent refilling, there may be a leak. If you suspect a problem, have the vehicle checked at your SUBARU dealer.
• When clutch fluid is added, be careful not to allow any dirt into the tank.
• Never splash the clutch fluid over painted surfaces or rubber parts.
Alcohol contained in the clutch fluid may damage them.
• Be careful not to spill clutch fluid when adding it. If clutch fluid touches the exhaust pipe, it may cause a bad smell, smoke, and/or a fire. If clutch fluid gets on the exhaust pipe, be sure to wipe it off.
See also:
Center console box (front)
If you remove the divider plate from the dual cup holders, you can use the center console box as a storage space. To use as storage space: Pull out the divider plate of the dual cup holder. T ...
Tire pressure monitoring system (TPMS) (if equipped)
The tire pressure monitoring system provides the driver with a warning message by sending a signal from a sensor that is installed in each wheel when tire pressure is severely low. The tire pressu ...
Security setting - Setting PIN code
The PIN code is a 4-digit number and is used when locking the phonebook. 1. Select the "SET PIN" menu. Then "CURRENT PIN?" is displayed. 2. Input the current PIN code by operating the "TUNE/TR ...