Under the rear floor
1) Jack handle
A) 4-door models
B) 5-door models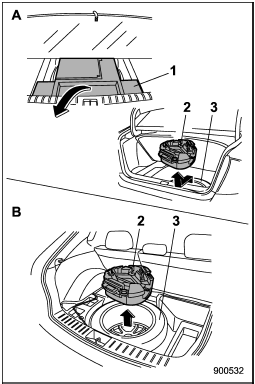 1) Under-floor storage compartment (if equipped) (Refer to "Under-floor storage compartment".)
2) Tool bucket
3) Spare tire
A) 4-door models
B) 5-door models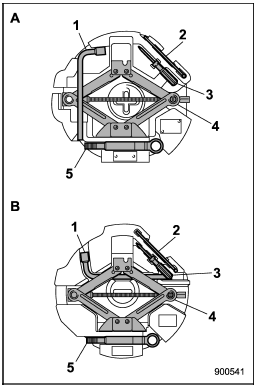 1) Wheel nut wrench
2) Hex-head wrench (only models with moonroof)
3) Screwdriver
4) Jack
5) Towing hook (eye bolt)
A) Models with 16-inch wheel tires
B) Except models with 16-inch wheel tires
The jack handle is stored under the floor of the trunk (4-door) or the cargo area (5- door). The jack and towing hook are stored in the tool bucket that is located in the recess of the spare tire wheel.
Also, the tools in the tool bag can be stored in the tool bucket as illustrated.
For how to use the jack, refer to "Flat tires".
See also:
Breaking-in of new brake pads and linings
When replacing the brake pad or lining, use only genuine SUBARU parts. After replacement, the new parts must be broken in as follows: ...
Dome light
Dome light 1) ON 2) DOOR 3) OFF The dome light switch has the following three positions. ON: The light remains on continuously. OFF: The light remains off. DOOR: The dome light illuminates auto ...
Disc brake pad wear warning indicators
The disc brake pad wear warning indicators on the disc brakes give a warning noise when the brake pads are worn. If a squeaking or scraping noise is heard from the disc brakes while braking, immedi ...